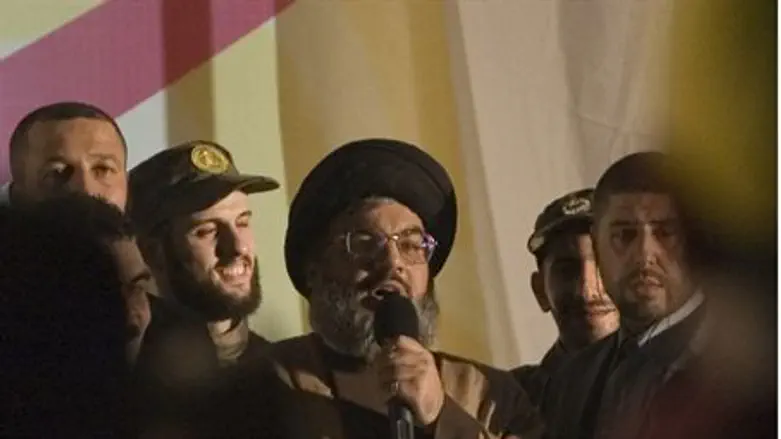 Hassan Nasrallah
Flash 90
Stories about the health of the leader of the Hizbullah terror organization continued to circulate in the media on Tuesday.
On Monday, Lebanese websites associated with the opposition to Hizbullah reported that its chief Hassan Nasrallah had been transferred to Iran to receive medical treatment due to cancer.
On Tuesday the Turkish Anatolia news agency confirmed that Nasrallah had been flown to a hospital in Iran, citing senior officials close to Hizbullah.
According to the report, Nasrallah had been undergoing treatment at a private hospital in Beirut, but his health deteriorated in recent days.
At the same time, Hizbullah officially denied the reports on Tuesday evening.
The organization released a statement saying that Nasrallah's condition is "good" and that he "never left Lebanon to go anywhere."
Last week Nasrallah was seen warning Israel not to think that a weakening of Bashar Assad's regime in Syria means his group is also weaker.
"Those who think Syria is no longer a player and cannot help the resistance (Hizbullah)... and that the resistance is going through a period of weakness and confusion, are mistaken," he said in a speech to his supporters broadcast on a giant video screen in southern Beirut.
"We have everything we need in Lebanon. We don't need to transport (arms) from Syria or Iran," claimed Nasrallah. "I warn the Israelis... that the resistance in Lebanon will not remain silent in the face of any aggression against Lebanon."
Bulgaria's recently fingered Hizbullah as being behind the attack in Burgas last July, which killed five Israeli tourists. This has led to renewed calls from Washington and Israel on the 27-nation European Union to designate the group a "terrorist" organization.
However, EU sources have indicated that the organization is unlikely to designate Hizbullah a terrorist organization because of its active "political wing".