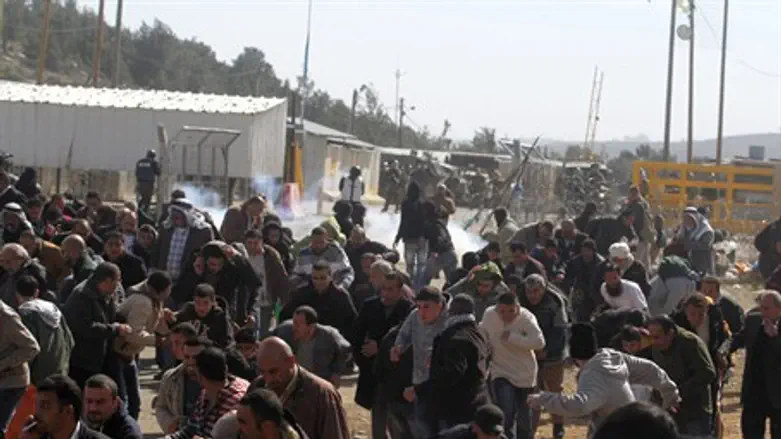 Arab riot
Flash90
The United Nations on Tuesday condemned the firing of a rocket from Gaza into Israel, which was the first of its kind since the ceasefire deal that ended the Pillar of Defense counter-terror operation in Gaza in late 2012.
"This was the longest period without projectiles fired from Gaza in recent years, and both sides should work to consolidate the calm that prevailed before today," UN political chief Jeffrey Feltman told a UN Security Council meeting on the Middle East.
He said the UN was "deeply troubled" by the rocket attack, while simultaneously stressing the international body's demands for an independent investigation into the death of Arab prisoner, Arafat Jaradat, and concerns over four others on hunger strike in Israeli prisons.
While Feltman said the international community must reinvigorate efforts to revive Israel-Arab peace talks, he placed the blame for the situation on the Jewish state, alleging that Israel demolished at least 139 Palestinian-owned structures in January.
"This is the highest number of such demolitions in a single month in over two years," he claimed.
Meanwhile, Hamas organized two sizeable rallies in Khan Younis and Rafah in southern Gaza to protest the death of 30-year-old Jaradat in the Meggido prison.
Senior Hamas leader Salah al-Bardawil urged the kidnapping of Israeli soldiers and rallied support saying that, "a new Palestinian Intifada is about to break out in support of prisoners."
At nearby Beit Anun, hundreds of Arabs gathered and hurled rocks at Israeli security forces who were on high alert during the funeral. The security forces countered the rioting with riot dispersal gear.