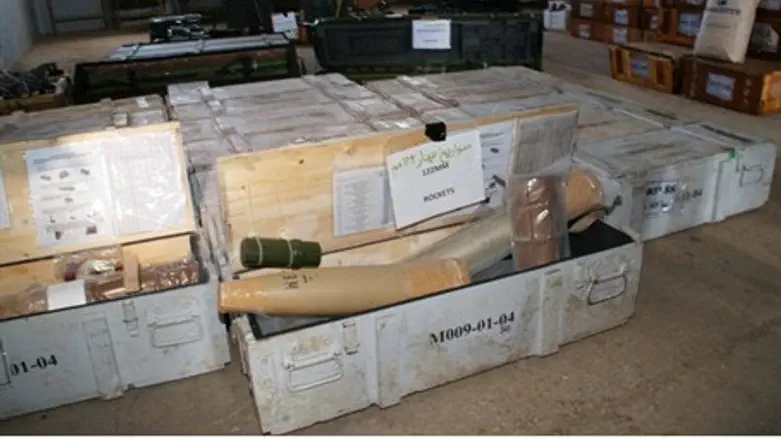 Weapons and equipment that Yemeni authorities
AFP photo
UN experts in Yemen on Sunday investigated an Iran-linked arms shipment which authorities intercepted in January, the official Saba news agency reported, according to AFP.
The UN team, escorted by army general Nasser al-Taheri, inspected the contents of the ship which Saba said includes surface-to-air missiles, Katyusha rockets, explosives, ammunition and surveillance systems.
The Yemeni coastguard, in coordination with the U.S. navy, intercepted the Jihan II in the Arabia Sea. Authorities in Yemen have said the ship carried rockets and explosives that came from Iran.
Iran denied any involvement in sending the ship, claiming that "reports in this regard have many ambiguities... these kind of irresponsible claims are not in line with the mutual interest of the two nations."
Earlier this month the UN envoy to Yemen, Jamal Benomar, said the government in Sanaa had asked the UN's sanctions committee to investigate the contents of the ship and determine where it originated from and who it was destined for.
A 2007 UN resolution bans Iran from exporting arms.
A Yemeni security source has said the arms were destined for Shiite rebels who control the northern Saada province.
Several weeks ago Yemen demanded an explanation from Tehran over the arms shipment, accusing Iran of interference in its internal affairs.
"The Yemeni government will not allow interference in its internal affairs from any party, or for its territories to become a site for proxy wars," Foreign Minister Abu Bakr al-Qirbi told Iran's ambassador to Sanaa, Mahmud Hassan Zada.