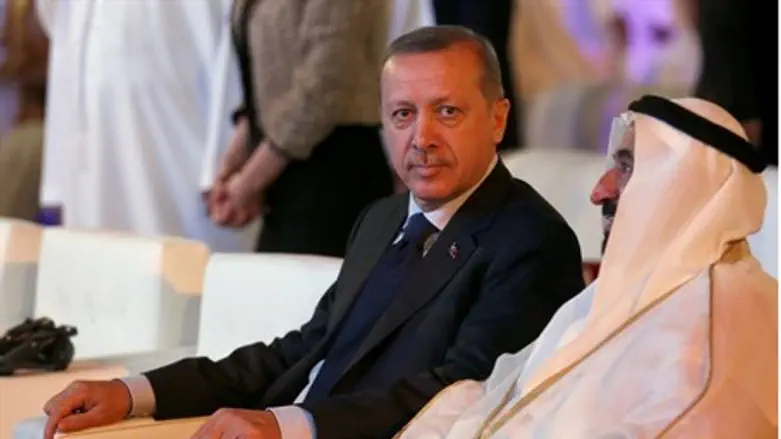 Turkish Prime Minister Recep Tayyip Erdogan
AFP photo
In his latest hateful remarks, Turkey's Prime Minister on Sunday slammed Syrian President Bashar Al-Assad for slaughtering his own citizens, but also took advantage of the opportunity to once again verbally attack Israel.
"Every day a large number of innocent children and women fall dead in Syria," Prime Minister Recep Tayyip Erdogan said on a visit to the United Arab Emirates, according to AFP.
"We will not remain silent on those committing crimes against their people... We will not remain silent on the brutal dictator in Syria," he added.
However, in a reference to Israel, Erdogan also said, according to the Jordan Times, "We will not remain silent in the face of the cruel dictator, the mute devil, who mercilessly carried out massacres against his own people, but who has remained silent and unresponsive toward those who have occupied his own territories for decades."
The remarks are the latest in a verbal war that Erdogan has waged on Israel over the past several years.
Israel's relationship with Turkey broke down completely after the 2010 incident on the Mavi Marmara ship.
The vessel, owned by the Turkish IHH group, was one of six sent to illegally breach Israel's maritime blockade of Gaza as a "humanitarian flotilla" but was found to be carrying nothing. 
When the vessels ignored repeated Israeli navy requests to redirect their boats to Ashdod port, IDF commandos boarded each vessel to force them to port, where the humanitarian aid they were allegedly carrying could be off-loaded and carried to Gaza through the land crossings with Israel.
In the case of the Mavi Marmara, however, the Israeli soldiers – armed only with pistols and paint-ball training guns -- were brutally attacked by the "activists" as they boarded, with several critically injured. The commandos who followed them shot and killed their attackers, leaving nine dead.
Turkish leaders have demanded an apology from Israel over the incident, but Israeli leaders have refused, saying Israel had acted in self-defense.
Earlier this month, Erdogan accused Israel of waging "state terrorism", condemning an alleged Israeli air strike in Syria as an unacceptable violation of international law.
The verbal attack came a day after Erdogan's Foreign Minister, Ahmet Davutoglu, attacked the Syrian government for failing to respond to the Israeli airstrike, claiming that the Syrian stance raises suspicions that there is a secret deal between the two countries.
Meanwhile, Channel 2 News reported on Saturday that a recent Israeli attempt to restore the strained relations with Turkey failed.
According to the report, the head of Israel's National Security Council, Yaakov Amidror, recently met in Rome with the Director-General of the Foreign Ministry in Ankara.
The meeting was held at the initiative of Prime Minister Binyamin Netanyahu's Office and was also attended by Joseph Ciechanover, formerly the Director-General of the Israeli Foreign Ministry. However, no agreements between the sides were reached.