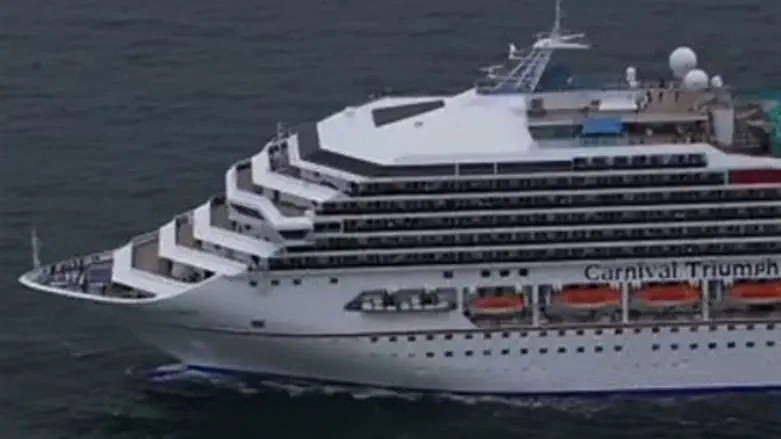 The ship, adrift in the Gulf of mexico, will
Reuters
Passengers on a stricken cruise ship in the Gulf of Mexico are enduring a nightmare after days without power, waiting hours for sparse meals and relieving themselves in plastic bags, one said Thursday.
The ship Triumph, owned by Carnival, suffered an engine room fire Sunday that left it disabled and adrift as it carried more than 4,000 people. It is being towed to Mobile, Alabama and was to arrive Thursday afternoon, AFP reported.
Meanwhile, the sunny and pleasant cruise people paid for has turned in a gruesome, smelly ordeal.
"My friends and I are doing OK, but it is extremely terrible conditions," Jamie Baker, a passenger from the Houston, Texas area, told NBC News.
She said pipes had burst, the toilet system is backing up and passenger cabins have dirty water sloshing around in them.
People are waiting in line up to four hours for meals she described as "basically bread" or, on her case, skimpy sandwiches of tomato and mayonnaise.
"Sanitation is a huge problem. Food is very sporadic," Baker said.
Indeed, heeding Mother Nature's calls is not a pretty sight.
"We have to use the bathroom in these bags in the trash can. Then we have to take it into the hall and put it in these bigger bags," Baker said with a chuckle. "It is so --- you now, it is not good. And the smell, oh."
Crew members have been great trying to ease all the discomfort, but the leadership aboard the vessel has been awful, promising things that never materialize, she alleged.
Baker also said seas were so rough the first night without power and the ship tossing about so badly much that she and her friends slept in their life vests.
"I truly, truly, truly thought the boat was gonna tip over because it slants at, like, a 45 degree angle one day and the next day it is to the other side," said Baker.
Carnival admitted Wednesday the ship had first suffered electrical problems as recently as a few weeks ago. But it insisted this had nothing to do with the fire that broke out Sunday.
Carnival has canceled several upcoming sailings of the Triumph.
The Miami-based operator said cruises on the ship, which left the port of Galveston in Texas on February 7, have been halted until at least mid-April.
The Triumph had originally been scheduled to return to port early Monday after a weekend stop in Cozumel in Mexico, before the engine room blaze left the vessel without power.
In January 2012 another Carnival ship, the Costa Concordia, ran aground and sank off the Italian coast, killing 32.
Carnival Corporation & PLC is the largest cruise company in the world, with sailings from North America, Europe, Australia and Asia.
Among its best known brands are Carnival Cruise Lines, Holland America Line, Princess Cruises, Seabourn, AIDA Cruises, Costa Cruises, Cunard, Ibero Cruises, P&O Cruises in Australia, and P&O Cruises in Britain.
Some 200 workers will be mobilized on the ground in Mobile to greet the arriving vessel and to help guests travel home. Carnival will cover all travel related and incidental expenses.