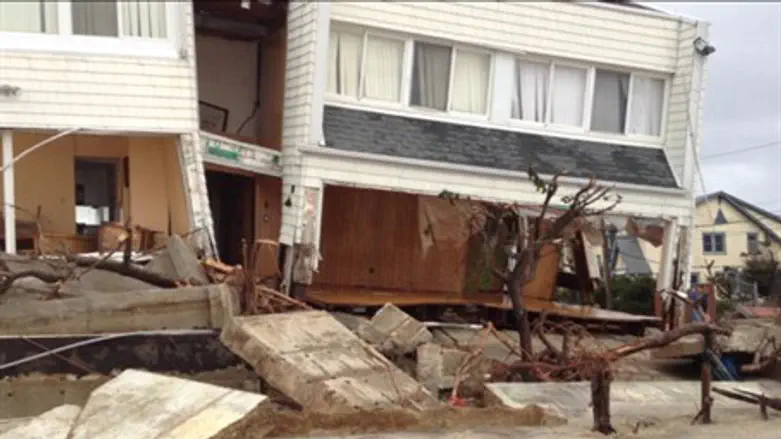 The coastal neighborhood of Seagate was hit h
Israel news photo: Caryn Lubin
Congress has overwhelmingly passed a bipartisan-backed bill to force FEMA to help houses of worship with disaster assistance in the wake of last year's Hurricane Sandy, as the agency does with secular nonprofit organizations. Many of the religious organizations have been helping victims of the superstorm that wiped out numerous homes and neighborhoods, but have been unable to access government aid due to their status.
Funding in the amount of $9.7 billion was allocated to FEMA in January to process flood insurance claims resulting from the October Frankenstorm following a months-long delay that infuriated legislators from the area.
A report released Tuesday revealed that Superstorm Sandy was the deadliest hurricane to hit the region in 40 years, and the second-costliest in the nation's history. The National Hurricane Center report said the storm directly led to 72 deaths and indirectly caused another 87. Victims perished from causes such as hypothermia due to power outages, carbon monoxide poisoning and accidents during cleanup efforts. The report estimated that Sandy caused around $50 billion in damage. The only U.S. hurricane which caused more damage was 2005's Hurricane Katrina, which caused $108 billion in damage.
H.R.592, the "Federal Disaster Assistance Nonprofit Fairness Act of 2013," was backed by a range of lawmakers from New York and New Jersey, both states hard hit by last year's storm. Co-authors of the bill were Rep. Chris Smith (R-NJ-04) and Rep. Grace Meng (D-NY-06), and it was co-sponsored by Peter King (R-NY-02), Eliot Engel (D-NY-16), Trent Franks (R-AZ-08), Michael Grimm (R-NY-11), Frank LoBiondo (R-NJ-02), Carolyn McCarthy (D-NY-04) and Bill Pascrell Jr.(D-NJ-09).
Short-named the "Smith-Meng Bill", the law passed the House in a vote of 354-72 this week, allowing the Stafford Disaster Relief and Emergency Assistance Act that funds the Federal Emergency Management Agency (FEMA) to grant funds. 
The legislation stipulates that the Act that funds FEMA is a general government program under which federal assistance following a natural disaster can be rendered using criteria that are neutral with regard to religion.
It's not the first time the move has been taken by the Congress in such circumstances. After the Oklahoma City bombing in 1995, Congress overruled FEMA's refusal to provide aid to damaged churches. And in 2002, after an earthquake in Seattle, the Justice Department forced FEMA to assist religious organizations that were damaged as well.
"It's about those who helped feed, comfort, clothe and shelter tens of thousands of victims now being told they are ineligible for a FEMA grant," said U.S. Rep. Chris Smith (R-NJ). "It is unconscionable that foundational pillars of our communities damaged by Sandy – synagogues, churches, mosques, temples and other houses of worship – have been categorically denied access to these otherwise generally-available relief funds."
The vote was seen as a "great victory" also for the many houses of worship that were damaged or destroyed by the storm, said U.S. Rep. Grace Meng (D-NY). "We're now one step closer to ending the unfair and discriminatory treatment that churches, synagogues, mosques and temples have been forced to endure since the storm hammered our region."
The bill, endorsed by Harvard Law Professor Alan Dershowitz, the American Jewish Committee, the Jewish Federations of North America, NJ State Association of Jewish Federations, Union of Orthodox Jewish Congregations of America, United Jewish Appeal (UJA) of NY and myriad other Jewish and non-Jewish religious organizations, now moves to the Senate.