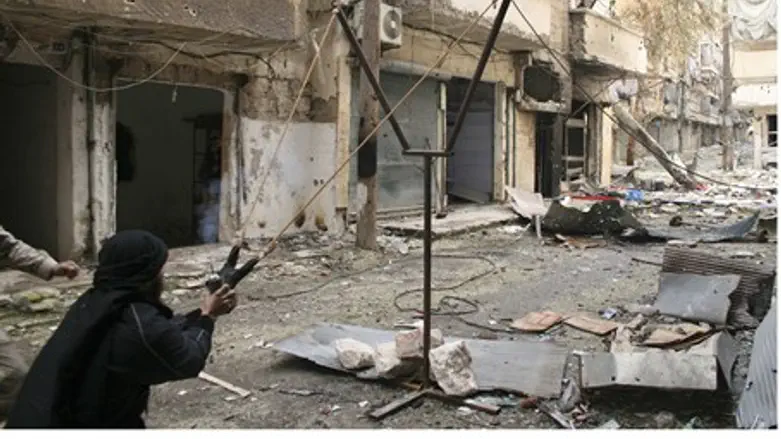 Syrian rebel in Aleppo uses handmade catapult
Reuters
Moscow is continuing its export of military hardware to the regime of Syrian President Bashar al-Assad, state arms exporter Rosonboronexport director Anatoly Isaikin confirmed Wednesday.
"We are continuing to carry out our obligations on contracts for the delivery of military hardware," Isaikin told reporters at a news conference in Moscow, adding there were no attack weapons among the hardware, such as helicopters or planes.
There were, he said, anti-missile air defense systems being sent to Assad's forces – a shipment which he insisted did not violate any resolutions by the United Nations Security Council, or international laws.
U.N. Human Rights Council head Navi Pillay strongly criticized the Security Council on Tuesday for its failure to end the killings of civilians in the savage civil war wracking the country. Nearly 70,000 people have died, Pillay said in opening remarks at a Council session, adding, "the lack of consensus on Syria and the resulting inaction has been disastrous, and civilians on all sides have paid the price. 
"We will be judged against the tragedy that has unfolded before our eyes," Pillay warned. "This council, as well as those of us in key positions within the U.N. will be rightly asked what we did."
She called on the Council to refer Syria to the International Criminal Court at The Hague for investigation on allegations of war crimes and crimes against humanity. "This would send a clear message to both the government and the opposition that there will be consequences for their actions, and could have a very significant preventive effect," she said.
Russia and China have both repeatedly blocked the Council from passing resolutions that would enable the international body to refer the matter to the ICC.
The Syrian civil war was ignited by the impulsive act of a teenager who scrawled graffiti on a wall in Dera'a in March 2011. Syrian police arrested and tortured the teen, whose defiance was inspired by the Arab Spring uprisings that were sweeping the region at the time. 
Protests over the government abuse followed, and the simmering sectarian rage that had long been lying beneath the surface soon burst into flames. Peaceful protests were met with brutality by government troops, followed by massive arrests, "disappearances" of protesters, tortures in prisons and murders as well.
Eventually, even the soldiers balked at carrying out such orders against their own people, and quietly began to defect to an opposition movement that grew into a groundswell that transformed from a call for change into a call for Assad's ouster.