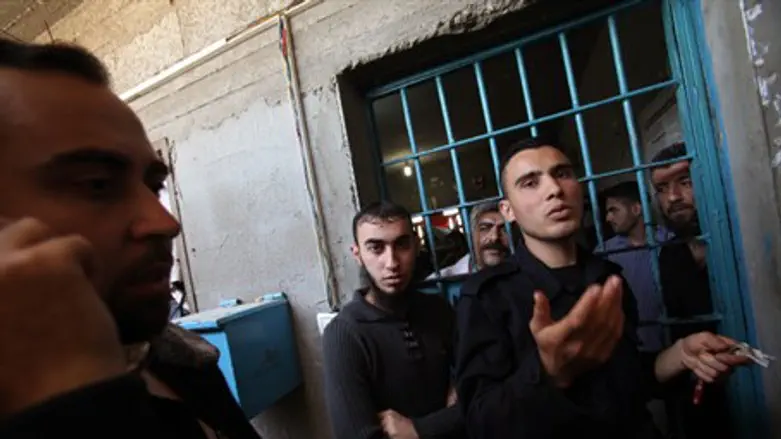 Terrorist prisoners
Flash 90
Palestinian Authority Chairman Mahmoud Abbas on Tuesday called on the international community to intervene urgently in support of PA Arab terrorist prisoners on hunger strike in Israeli jails.
"Things may get out of control if the lives of the hunger strikers are not saved," Abbas said on PA television and was quoted by AFP.
"We ask the international community to respond effectively to ease the situation, otherwise it will be impossible to control and it will deteriorate across the Palestinian territories," he added.
"These prisoners are on hunger strike in response to the policy of administrative detention and ill-treatment by the occupying authorities," he added, in reference to Israel.
Abbas singled out four detainees in need of special attention -- Samer Assawi, Jaafar Ezzedine, Ayman Sharawneh, and Tareq Qaadan.
Hunger striking to bring about a release from Israeli prisons has become a very common phenomenon among PA Arab terrorist prisoners in recent months.
In October, Israeli authorities released a hunger striker ended his strike after assurances they would be freed at the end of their current administrative detention term.
Last April, Israel released Hana Shalbi, a female terrorist, after a 43-day hunger strike.
Shalbi, a terrorist from the Islamic Jihad organization, was arrested for terrorist activity in 2010. She refused to cooperate with interrogators and was violent towards them. This violence included threatening their lives, trying to attack one of them, spitting at police officers, and even biting a policewoman.
Another famous case of a hunger striking terrorist being released is that of Khader Adnan, who had gone a on a hunger strike for 66 days to pressure the State to release him. The hunger strike resulted in Adnan being admitted to hospital.
He launched the hunger strike to protest his administrative detention and the strike became a cause célèbre for anti-Israel activists and Arab propaganda organizations. His attorneyappealed his administrative detention order to Israel's Supreme Court.
The State later caved in to the pressure and agreed not to renew Adnan's administrative detention order. He, in turn, agreed to end his hunger strike.
AFP reported that Abbas also sent an urgent letter to UN Secretary General Ban Ki-moon to condemn the health and living conditions for the hunger strikers, as well as to demand their release.
Last year, between 1,600 and 2,000 terrorist prisoners in Israel took part in a collective hunger strike which ended with an agreement with prison administrators on May 14.