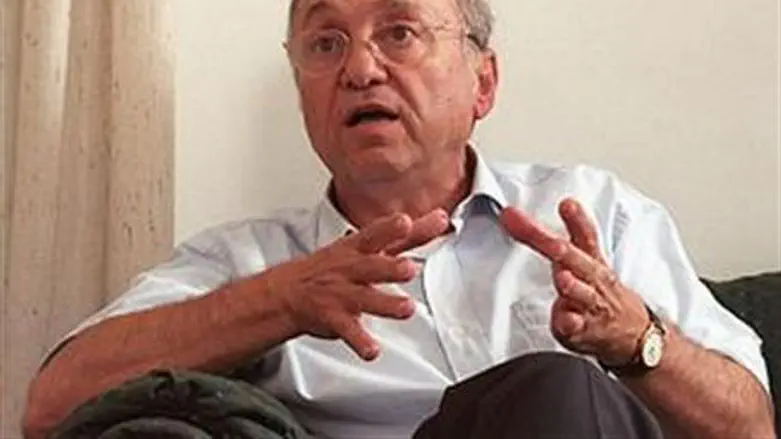 Justice Minister Yaakov Neeman
Israel News photo: Flash 90
Freshman MK Orit Strook challenged outgoing Justice Minister Yaakov Neeman on Tuesday regarding the Levy Report, which stated that the presence of Israeli communities in Judea and Samaria is legal under international law, and proposed a new approach to land disputes between Jews and Arabs in the area.
"As Justice Minister, you signed on the appointment of the Levy Committee," said Strook, who took advantage of the opportunity to question Neeman during his final speech as Justice Minister.
"The Levy Report emphasized a basic principle, according to which 'Land disputes belong in the realm of private law, and the authorities should not intervene,'" she said. "This simple, trivial principle is essentially the right to a fair trial – which is respected throughout the free world, and is not violated by Israel's legal system either. Except in Judea and Samaria."
In Judea and Samaria, she said, "citizens' rights are systematically violated." In those regions the government decides policy in cases where Arabs claim land on which Israeli Jews have built homes, and in many cases, its chosen response has been to demolish the homes. The Levy Report proposed that such cases be heard in court, with the preferred restitution in cases where land was found to have been unintentionally wrongly appropriated being financial compensation.
"Could you explain why the legal system continues to violate this basic principle even nine months after the Levy Report was submitted to the government?" Strook asked Neeman.
Neeman responded by agreeing to Strook's arguments. "Indeed, it would be appropriate for the government and the Knesset to adopt the Levy Report," he said. "Unlike the Talia Sasson report, it was a quality, objective report."
Strook also asked Neeman why ministers' votes in the ministerial legislative committee are secret. Neeman told her that if the votes were made public, "No minister would vote."