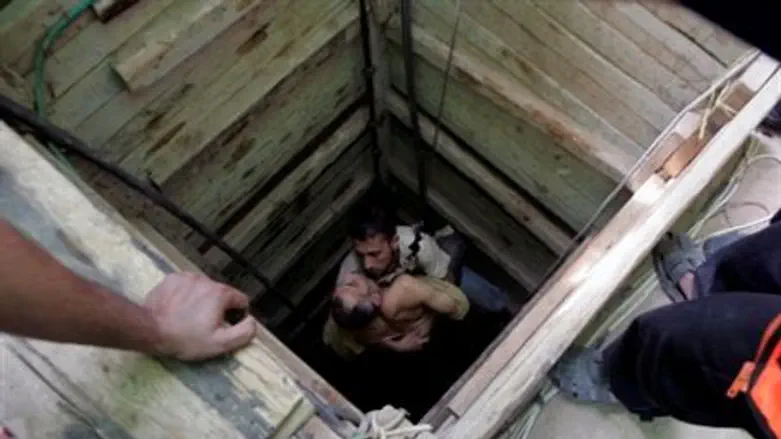 Smuggling tunnel
Israel news photo: Flash 90
Hamas is making at least a million dollars a day in "tax" money from Gaza smugglers, a senior IDF officer said Monday. Colonel Wael Tafesh, who is a top IDF officer in the IDF's coordination unit with the Palestinian Authority, said that Hamas provided "protection" to smugglers and collected payments for the service, and often used the smugglers to order goods for their own use.
According to Wafesh, Hamas is in full control of what goes in and comes out of the smuggling tunnels. News reports and PA officials have sought to paint Hamas as unable to cope with the "wily" smugglers who were able to operate under the radar, but speaking to Israel Radio, Wafesh said that Hamas knew the smugglers, what goods they brought into Gaza, how much they were worth, and how much tax money smugglers could afford.
Among the goods smuggled are food, agricultural products, electronics, machines, building supplies, and a long list of items that the IDF had banned from bringing into Gaza out of fear that they could be used to build weapons. As it turns out, that fear is probably unfounded, said Tafesh – because smugglers were just importing the weapons themselves now. The weapons have their source in Libya, as well as Iran.
Many stolen cars are brought into Gaza via the smuggling tunnels daily as well, Tafesh said. There are hundreds of tunnels under the Gaza border with Sinai, of all shapes and sizes, he added.
Besides the smuggled goods, Israel admits some 300 trucks into Gaza daily through crossings from Israel into Gaza, said Tafesh. Those trucks contain food, medicine, building supplies, and clothing. It is not known whether Hamas taxes these items as well.