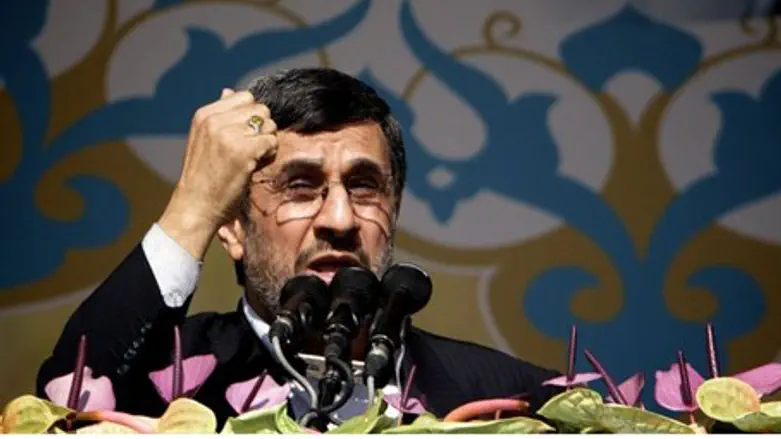 Iranian President Mahmoud Ahmadinejad
AFP photo
Iranian President Mahmoud Ahmadinejad on Sunday said the United States must change its attitude if it wants to hold direct nuclear talks with Iran, as he hit out at Washington for imposing sanctions on Tehran, AFP reports.
His comments, in a speech marking the 34th anniversary of the Islamic revolution that ousted the U.S.-backed shah in 1979, came just days after Iran's supreme leader rejected U.S. Vice President Joe Biden's call for direct talks.
They also come at a time when Tehran and six world powers are preparing to resume stalled talks over Iran's nuclear programme in the Kazakh city of Almaty on February 26.
"The change of tone is necessary but not sufficient," Ahmadinejad said at Tehran's landmark Azadi (Freedom) Square amid chants of "Death to America," according to AFP.               
"Stop pointing weapons at the Iranian nation and I will myself negotiate with you," he said, addressing the United States directly.
"Talks should be with respect, fairness and not under pressure."
"You have done everything to prevent us from becoming nuclear and you have failed. The best solution is cooperation and understanding," said the Iranian president.
Last week Biden made a "serious offer" for direct talks in the framework of negotiations between Iran and the so-called P5+1 (the United States, France, Britain, Russia, China and Germany) on Tehran's nuclear program, which world powers suspect is aimed at making atomic weapons.
Iran vehemently denies the allegation.
Supreme leader Ayatollah Ali Khamenei, who has the final say on all national issues, rejected Biden's offer outright.
"I am not a diplomat but a revolutionary and I speak frankly," Khamenei was quoted as saying on his website on Thursday. "You (Americans) are pointing the gun at Iran and say either negotiate or we will shoot."
On Sunday, Ahmadinejad called on Iranians to remain "united behind" Khamenei, reiterating that "the Iranian nation will not give up an inch of its legitimate rights."
Tehran is currently under a series of international and Western sanctions aimed at curbing its nuclear ambitions, mainly the sensitive process of uranium enrichment.
The punitive economic measures have led to a severe economic crisis, choking Iran's banking system and limiting oil exports, its main foreign revenue earner.
A report to Congress last week indicated that Western sanctions on Iran have contributed to a drop in the Islamic Republic's access to global sources of capital last year.
Foreign banks cut their lending exposure to Iran by the equivalent of $9.1 billion in 2012, down 53 percent, according to the U.S. Treasury department's report.
Ahmadinejad steadfastly denied that the sanctions are hurting the economy, until Iranian Oil Minister Rostam Qasemi broke ranks and admitted that the sanctions have sliced oil exports by 45 percent.
Last week Iran's currencyplummeted to an all-time low, registering a more than 21-percent drop in a span of two weeks against the U.S. dollar.
The rial was traded at between 39,000 and 40,000 per dollar on the open market last Saturday, down from about 33,000 two weeks earlier.