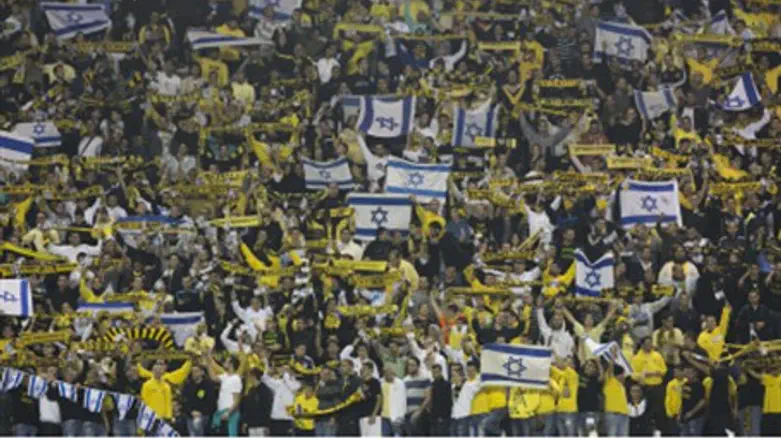 Beitar audience.
Israel news photo: Flash 90
Police arrested 15 fans for racist chants at the start of Sunday evening's soccer match at Teddy Stadium in Jerusalem, between Beitar Jerusalem and Bani Sakhnin. Nine of those arrested were from the Arab town in the western Galilee while the other six were supporters of the home team.
Hundreds of policemen fanned out in and around Teddy Stadium, in advance of Sunday's tense soccer match. The game is held in the aftermath of an arson attack on Beitar's clubhouse last weekend. The attack hurt no one but caused extensive damage to the trophy room. It is believed to have been set by the team's fans, who are incensed over the management's decision to bring two Muslim Chechens to play on the team.
Beitar, which is historically connected to the Herut movement that forms the backbone of Likud, has come to be associated with a fiercely proud brand of Jewish nationalism, which occasionally spills over into anti-Arab chants.
Bani Sakhnin, on the other hand, is an Arab team, and like most Arab teams in Israel, its fans have a disagreeable tendency to chant slogans that incite hatred of Jews.
Tension over the Chechen players is so high that Prime Minister Binyamin Netanyahu related to the matter in a Facebook post Sunday afternoon.
"I would like to say something that we want, and something that we do not want," he wrote. "We want unity, dialogue and cohesiveness. The last thing we want, and which we absolutely reject is violence, racism and boycotts. These are unacceptable to us.
"I say this in regards to a team that I have supported for years, Beitar Jerusalem. It has good and dear fans. Lately, we have seen displays of extremism that we find unacceptable. These must be uprooted, of course, from the world of sports. Therefore, I call on all fans, and also on those who are not fans, to disavow these phenomena."
Police have launched an investigation into the arson attack, and are focusing their efforts on the hard core of several hundred stalwart Beitar fans who refer to themselves as "La Familia."