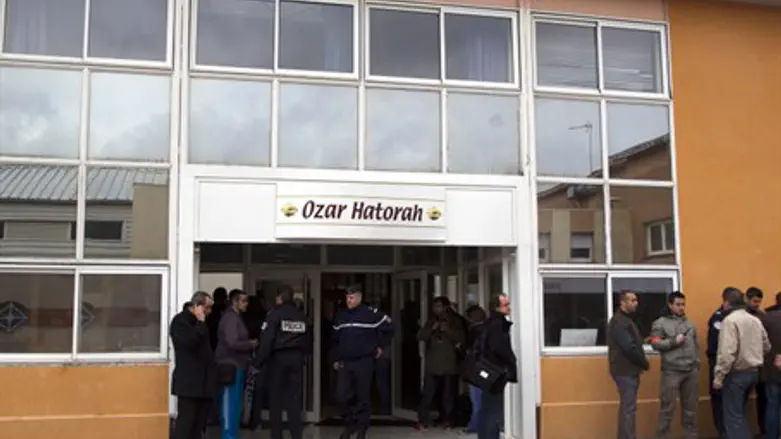 Scene of Merah terror murders in Toulouse
Israel news photo: Flash 90
A woman was arrested on Tuesday after trying to stab a student at the Ohr HaTorah Jewish day school in Toulouse, France.
The school was the target of a terror attack last year which left four people dead, including a rabbi and three students. It was known at the time as the Otzar HaTorah school, but has since changed its name.
Tuesday's incident took place as a 16-year-old student walked out of the school, when he was suddenly attacked by a knife-wielding woman who tried to stab him while calling out anti-Semitic insults.
The boy managed to escape and flee back into the school compound, where he called for help. Police who were called to the scene and collected testimonies from about the incident were able to arrest the attacker at her home shortly afterwards.
According to reports in France, the attacker is known to the authorities as mentally disturbed.
Last March, terrorist Mohamed Merah murdered Rabbi Jonathan Sandler, his sons Aryeh and Gavriel and Miriam Monsonego. Before that, he murdered three Muslim paratroopers of North African heritage. Merah was ultimately killed when he tried to flee a raid on his apartment.
France has seen a surge of 45% in the number of anti-Semitic incidents over the past year.
The Otzar HaTorah school itself was the target of several anti-Semitic attacks since Merah's terror attack. In the week after the attack, the school received a wave of anti-Semitic phone calls and emails.
Eight days after the Toulouse attack, a student from the Otzar HaTorah campus in Paris was lightly injured in an attack by anti-Semites.
The 12-year-old boy fell victim to violence by a group of unknown assailants who ambushed him outside the school and called out anti-Semitic slurs.
Last week French police arrested two men in connection with the Toulouse terror.
A source close to the investigation said the two men, aged 28 and 30, were arrested in Toulouse and brought to Paris for questioning.