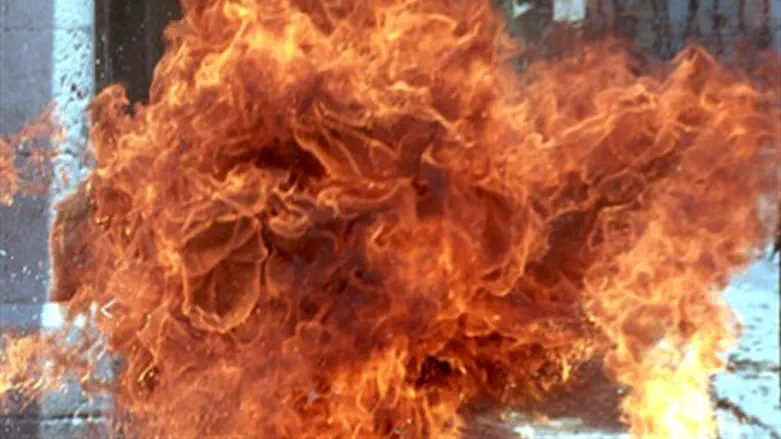 Explosion (illustrative)
Israel news photo: Flash 90
A blast went off in southern Lebanon, near the city of Tyre, late on Sunday night, Al-Arabiya reported, based on local media sources.
The blast reportedly occurred after an electronic device exploded in the area.
The Lebanese Future TV network said that an "Israeli aircraft might have detonated an electronic transmission device" in the southern area of al-Fawwar.
"Hizbullah has cordoned off the area," Future TV added.
The official Lebanese NNA news agency claimed that "Israeli aircraft did not leave the Lebanese airspace over the South all through the day."
Israel's Channel 2 News, reporting on the explosion, cited a report from the Hizbullah-affiliated Al-Manar network which said that the explosion was caused by a stun grenade and not by an airstrike.
The IDF chose not to comment on the reports, according to Channel 2.
Reports of the explosion in Tyre come several hours after Lebanese media reported that Israeli war planes were spotted in the skies above southern Lebanon.
It appeared the pilots were rehearsing attacks on targets in the region, local sources told media outlets.
Both Syria and Lebanon accused Israel of carrying out air strikes on a convoy last Wednesday that was transporting Russian-made surface-to-air missiles from the Damascus area towards the border with Lebanon.
Israel has not commented on the attack, and has not officially confirmed its involvement, although Defense Minister Ehud Barak earlier Sunday hinted at the possibility that Israel did carry out the attack.
Speaking to top international diplomats and defense officials at a conference Sunday in Germany, Barak referred to the attack as "proof that when we say something, we mean it."
The Syrian military denied that the target of the attack was a weapons convoy. It accused Israel of launching a strike on a military research center at Jamraya, near Damascus.
Syrian rebels disputed the claim, taking responsibility for the attack themselves.