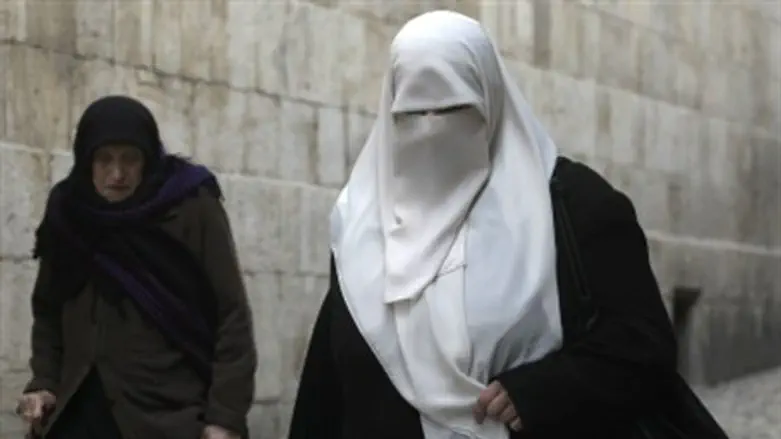 Arab women (illustrative)
Israel news photo: Flash 90
A Saudi Arabian cleric is calling for all female babies to wear the burka, an all-encompassing garment that includes a veil that covers the face. In Saudi Arabia, grown women already wear the burka.
Sheikh Abdullah Daoud issued the fatwa apparently with good intentions: in a television interview on Islamic Al-Majd TV about six months ago, Daoud said that he believed wearing the face veil would protect baby girls from sexual molestation in the kingdom.
He cited unnamed medical and security sources, according to a report published by the pan-Arab Al Arabiya news outlet, based in Saudi Arabia.
The fatwa has prompted wide condemnation from Saudis on the Twitter micro social networking website, who say the ruling "denigrates Islam and breaches individual privacy," according to the report.
A former judge at the Saudi Board of Grievances since attempted to undo the damage to Islam's image by telling the news outlet that he too believes the ruling is denigrating to Islam and Shari'a, and makes Islam "look bad." 
Sheikh Mohammad Al-Jzlana has urged Muslims to "ignore unregulated fatwas" and said special regulations are "set by Saudi authorities to administer religious edicts and appoint those who are entitled to issue them."
He added that he feels sad when he sees a family with a veiled baby, which he considers "an injustice to children."  However, the sheikh did not address the issue of sexual molestation of children that Daoud had attempted to prevent.
Women in the Saudi kingdom are not allowed to obtain a driver's license, nor are they allowed to go out without being accompanied by a male member of the family.