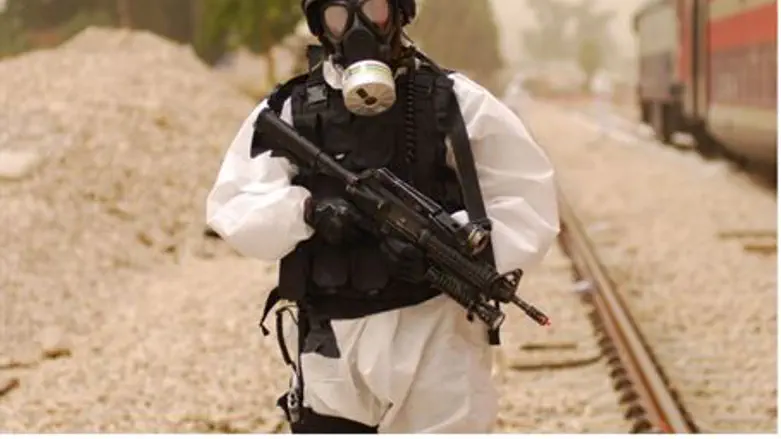 Chemical war drill (illustrative)
IDF Spokesman's Unit
The Lebanon-based Hizbullah terrorist organization is setting up bases in Syria close to known chemical weapons storage facilities, according to a source quoted in a report published Monday by Israeli Hebrew-language news outlet Ynet.
Hizbullah, which is generously funded and equipped by Iran, has been working to shore up the government forces backing Syrian President Bashar al-Assad, together with Iran's elite Revolutionary Guards.
But even with that assistance, the loyalists are beginning to lose their grip on the country, and it appears likely that Assad's regime may soon fall.
If it does, there is a strong likelihood that he may first choose to hand over the country's chemical weapons arsenal to his Iranian patrons. The other possibility is that Hizbullah may simply decide to seize the arsenal before anyone else has a chance to take it or destroy it.
The report follows on the heels of news that Jordan has tightened its security along its northern border with Syria, massing thousands of soldiers along with artillery, armored vehicles and other ordnance in the area.
Amman is also working in coordination with Israel to pass along information to the governments of Qatar and Saudi Arabia in anticipation of the strong possibility that the reign of President Bashar al-Assad may not hold much longer.
Israel, too, has beefed up its security as the chaos escalates in Syria. On Sunday, the IDF deployed Iron Dome anti-missile defense batteries at multiple locations throughout the north, and stepped up work on the new border fence in the area.
The new fence is embedded with highly technical surveillance systems designed to provide information with pinpoint accuracy about activities taking place within Syria's inland region.
Chemical weapons are delivered in warheads on missiles fired either from surface-to-air launchers, or dropped on to targets by war planes.
The Iron Dome system is designed to intercept such missiles and neutralize them in mid-air. During Israel's recent Operation Pillar of Defense counter terror offensive in Gaza, the system ensured that only 55 rockets out of the 1,500 fired at major cities in southern and central Israel actually landed in urban areas, a success rate of 85 percent.
It is essential to intercept a missile carrying a chemical weapons warhead as high in the air as possible, due to the fact that chemical weaponry loses its effectiveness the farther it is from the intended target. Sarin gas diffuses into the air and is neutralized at a relatively short distance. Mustard gas, which causes burns, likewise must be fired at a relatively limited range.
At least five sites are known to store lethal chemical weaponry in Syria, including a facility in the village of As-Safira, located just south of Aleppo, the country's northern commercial hub.
Speaking from a hideout in an Arab nation outside the country several weeks ago, a Syrian source said that two senior Syrian officials transported 100 kilomgrams of chemicals used to create the deadly sarin nerve gas from a base 50 kilometers northeast of Damascus, to a site located closer to Lebanon.
At the time, the source said the Assad regime had developed special vehicles equipped to move and mix chemicals to create the weaponry. The defector who revealed the information told the source that two men with Lebanese accents had arrived at the secret base and were trained to mix the isopropanol and methylphosphonyl difluoride – the combination that produces sarin gas.
Syria is known to possess 500 tons of the two chemicals, but up to that point, had stored them in separate areas so as to avoid the danger of inadvertently creating the lethal combination.