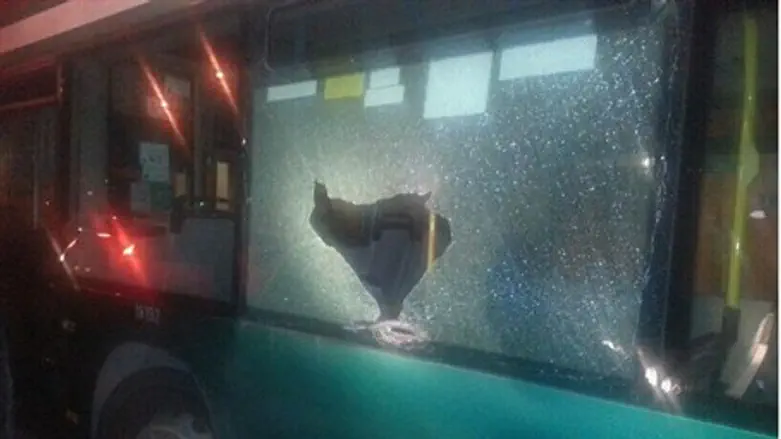 The attacked bus
Israel Police
Arab terrorists threw rocks on a bus traveling in the Binyamin region Sunday evening. There were no injuries reported. The incident was mistakenly reported as a shooting attack at first.
The number 172 bus, traveling from Jerusalem to the town of Anatot, was hit by rocks at as it passed near the Arab town of Hizme, north of Jerusalem. The bus was damaged, with several of the rocks piercing the bullet-proof windows.
Police closed the road immediately after the attack was reported, and began a search for the culprits. The road closure caused a huge traffic tie-up, with traffic stuck in both directions for many kilometers.
Earlier, Arabs attacked a Jew in the Givat Shaul area of Jerusalem. The attack occurred outside the famous Angel Bakery, and quickly turned into a near-riot, with dozens of Jews and Arabs facing off against each other. Several scuffles broke out, and a number of Arabs were reported injured in the fracas. Police arrived on the scene and used anti-riot techniques to break up the crowd, spraying tear gas on both groups. Magen David Adom rescue workers treated a number of people on the scene for light injuries. Police are investigating what set off the incident.
Meanwhile, in Hevron, a gang of Arab youths conducted a rock attack against a kindergarten in the Avraham Avinu neighborhood. The Arab attackers quickly retreated to the nearby Casbah. IDF troops stepped in to halt the attack.