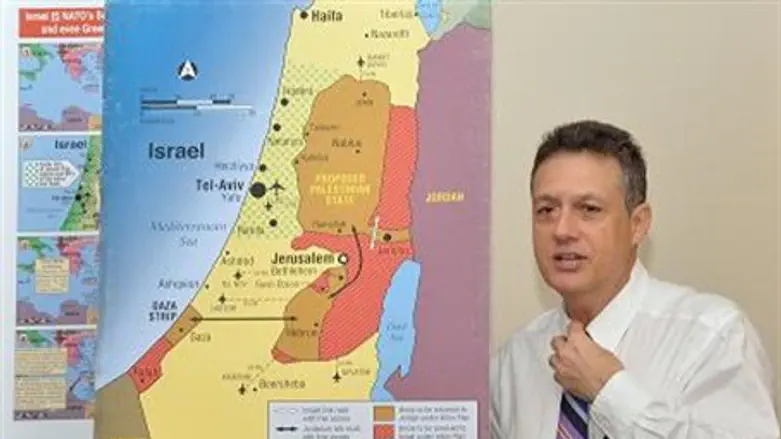 Langfan on Capitol Hill
EMET photo
The Endowment for Middle East Truth (EMET, which is Hebrew for "truth), held a series of discussions on Capitol Hill Thursday, to a standing room only crowd of over 80 Congressional staffers, foreign diplomats and citizen activists, focused on the geopolitical and ideological threats facing the nation of Israel.
The talks were part of EMET's Miriam and Sheldon G. Adelson Seminar Series, a monthly briefing series held on Capitol Hill, intended to inform members of Congress and their staff on Middle East national security matters.
Speaking first was Mark Langfan, who specializes in producing 3d topographical maps of Israel and the surrounding area in order to education U.S. policy makers regarding the role played by geography in the Arab-Israeli conflict. These maps enable policymakers to view the location of strategically important high ground, major population centers, and vital water supplies.
Sarah Stern, Found and President of EMET said, "The wonderful thing about Mark [Langfan]'s presentation is the ability to allow legislators to visualize the reality of the land. It's one thing to read about Hamas rocket ranges in the New York Times, but another to visually see the whole of Israel placed under threat."
Langfan's presentation was followed by Clare Lopez, a former CIA officer, and specialist in Middle East and Weapons of Mass Destruction (WMD). Lopez discussed recent revelations of a new Iranian nuclear site at Khondab, near the city of Arak, reported by pseudonymous former CIA agent Reza Kahlili. Lopez displayed unclassified satellite images of the site, and compared them to previous known enrichment sites involved in the Iranian pursuit for nuclear weapons capability. Lopez also discussed Iranian cooperation with North Korea on nuclear and ballistic missile technology.
"It's vital to get this information out there," said Stern about Lopez's presentation, "People think of the Iranian nuclear program as a static red line that doesn't move.  But the reality is the Iranians are constantly expanding their efforts, adding additional centrifuges, new enrichment sites in hardened underground bunkers. They are sprinting towards the completion of their goal, nuclear weapons."
Lopez was joined by Kenneth Timmerman, president of the Foundation for Democracy in Iran, who urged the audience to redouble efforts to promote Iranian dissidents as the best method for unseating the Islamic regime. Timmerman also issued a statement announcing the FDI's opposition to the nomination of former Sen. Chuck Hagel to the position of Secretary of Defense, due to Hagel's long standing ties to several organizations which Iranian dissidents have frequently regarded as lobbying on behalf of the Iranian regime.
EMET described the event as highly successful. Said Stern, "We were truly delighted by the turnout. With eighty-plus attendees, it was our most highly-attended event to date. We believe that shows how necessary these seminars are for legislators and their staff. We're providing the kind of in-depth information they simply can't get from mainstream press. We're looking forward to continuing to expand and develop this program, and to continuing to serve as a go-to educational resource for Congress and the public."