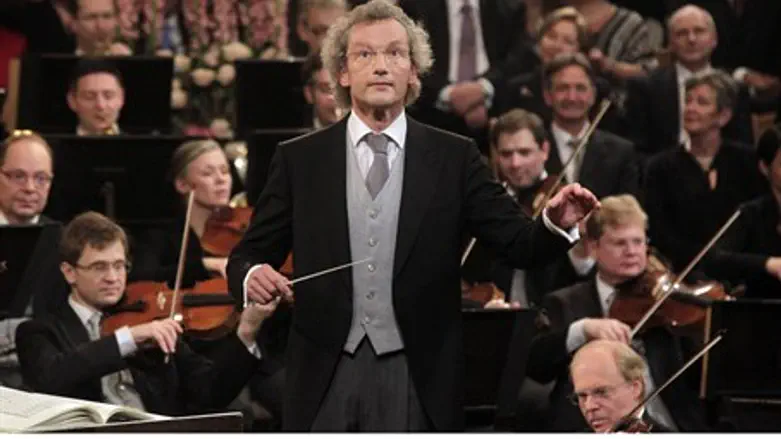 Maestro Franz Welser-Moest conducts the Vienn
Rueters
The Vienna Philharmonic said Tuesday that it has assigned three historians the task of investigating the prestigious orchestra's Nazi past following revelations about its honoring of war criminals.
Fritz Truempi, Oliver Rathkolb and Bernadette Mayrhofer will look into the "politicization" of the Austrian orchestra from 1938-1945, the fate of Jewish musicians and "deNazification" afterwards, a statement said, as quoted by AFP.
The announcement comes after Green Party lawmaker and historian Harald Walser sparked a debate on the eve of the orchestra's famous New Year's Concert this year by attacking the "deathly silence" over its past.
According to Walser, the former "Gauleiter" or governor of Vienna, Baldur von Schirach, was awarded the orchestra's prestigious Honorary Ring after being released from Spandau prison in 1966.
Von Schirach, who was convicted of crimes against humanity and imprisoned at the Nuremberg trials, had "called the deportation of 185,000 Austrian Jews a 'contribution to European culture'", Walser said, according to AFP.
Arthur Seyss-Inquart, also known as "Reichskommissar" of the occupied Netherlands where he organized the deportation to their deaths of 100,000 Jews, was honored with the award in 1942. He was later executed in 1946.
Mayrhofer and the orchestra's spokesman, violinist Clemens Hellsberg, published a 1988 brochure saying that six Jewish musicians from the Philharmonic were murdered by the Nazis in Austria, and 11 deported to death camps, according to AFP.
Truempi has written a book on the subject and Rathkolb recently unearthed new information about famed conductor Herbert von Karajan under Hitler. The three historians are set to publish their report in March.