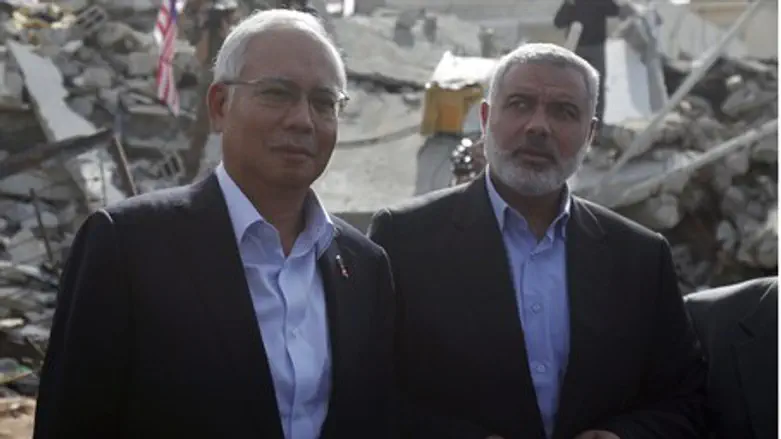 Malaysian prime minister Najib Razak with Ham
Reuters
Malaysian Prime Minister Najib Razak visited Gaza's Hamas terrorist rulers on Tuesday, angering Palestinian Authority Chairman Mahmoud Abbas's rival Fatah movement.
AFP reported that Razak pledged solidarity with Palestinian Authority Arabs and threw his support behind reconciliation efforts between Hamas and Fatah.
Najib, who entered Gaza via the Rafah crossing from Egypt with his Foreign Minister Anifah Aman and other officials, was met by Hamas's de-facto prime minister in Gaza, Ismail Haniyeh.
Speaking shortly after his arrival, Najib said his visit was intended "to show solidarity and our support for the struggle of the Palestinian people."
"We may come from thousands of miles away ... but we are one Umma (Muslim nation) and we believe in the struggle of the Palestinian people," he said, according to AFP.
Najib expressed support for renewed reconciliation efforts between Hamas and Fatah, including attempts to form a consensus government to pave the way for new elections.
He said a unity government would be a good "response" to Israeli elections which were under way on Tuesday.
"We believe in this unity government and we pray to Allah that the talks will be successful and a united government will become a reality in the near future," AFP quoted Najib as having said.
Haniyeh, meanwhile, commented on the voting in Israel, warning that "the trend of the Israeli elections suggests a move from an extremist government to a more extreme government."
"This requires us as Palestinians, and Arabs, and Muslims, to build a unified strategy to confront rising Zionist extremism," he claimed.
Meanwhile, Najib's visit drew criticism from the office of Abbas, who released a statement saying the PA "announces its rejection and condemnation of the Malaysian prime minister's visit to Gaza."
"It undermines Palestinian representation and reinforces the division and does not serve Palestinian interests," the statement continued, saying Abbas's bureau would ask Kuala Lumpur "for clarification."
The Malaysian premier's visit is the latest in a string of high-profile trips to Gaza, following a landmark trip last October by Qatar's Emir Sheikh Hamid bin Khalifa Al-Thani, who became the first head of state to visit the strip since Hamas took control in 2007.
During last November's Operation Pillar of Defense in Gaza, a delegation of Arab foreign ministers, along with Turkish Foreign Minister Ahmet Davutoglu, visited Gaza.
Also during Pillar of Defense, Egypt's Prime Minister Hisham Qandil visited the coastal enclave.
Earlier this week, Hamas announced that Tunisian President Moncef Marzouki will make his first visit to Gaza on February 9.