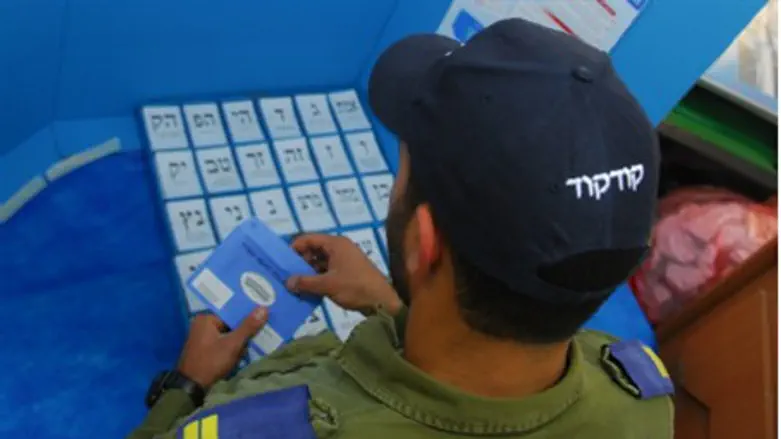 Preparing to vote at naval base
IDF Spokesman
When it comes time to vote, Israelis should think of one thing: what G-d wants from them, says Rabbi Shmuel Eliyahu, the chief rabbi of Tzfat.
"There are rabbis who say things, but we need to think of what G-d says to us," he told Arutz Sheva. "Ask yourself, 'What does G-d want from me, for the Torah, for the land of Israel, for the unity of Israel?'"
"Don't think of what they threaten you with, or pressure you with, what matters is what is good for the nation of Israel," he added.
Rabbi Eliyahu recalled what his father, the renowned Torah scholar and former Chief Rabbi of Israel Rabbi Mordechai Eliyahu, used to do on election day. "Right after early morning prayers he would vote, and afterward he would pray all day that the Holy One, Blessed is He, grant all of us the wisdom and the courage to make good decisions that will bring redemption to the world," he said.
Voting should be done in a state of happiness, he added. "Just as prayer must come from a place of joy, not from sadness or irritation, so too when we vote we need to think that we are moving forward… There are those who say we need to spit on the ballot and vote.
"I say the opposite, we need a positive approach. There are so many good parties that it is hard to decide, because they all want it to be good here," he concluded.
Israelis have already headed to the polls in large numbers Tuesday. By 2 p.m. 38.3% voted, including many of the candidates.
Israel votes, you watch. Live from Jerusalem, watch the Arutz Sheva election special sponsored by the Orthodox Union OU Israel Center today, Tuesday January 22nd from 9:00PM - 2:00AM Israel time / 2:00PM - 7:00PM Eastern Standard Time. Your phone calls will be taken. For more info click here.