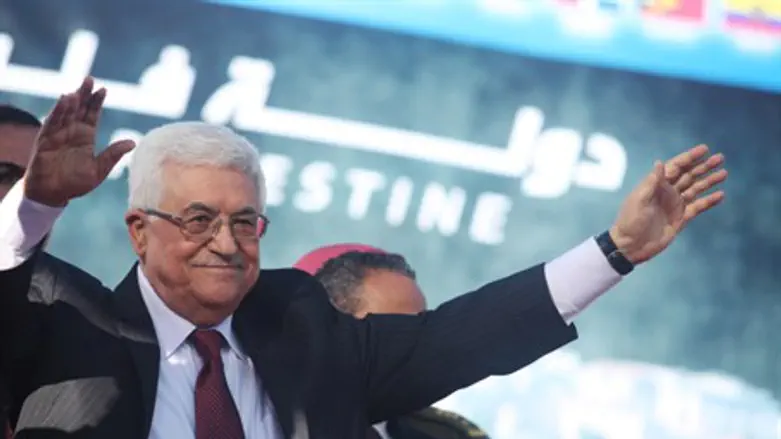 PA Chairman Mahmoud Abbas
Flash 90
Palestinian Authority Chairman Mahmoud Abbas has claimed in a television interview that there is a link between Zionists and Nazis, but his spokesman denied this on Monday.
Abbas made the comments during an interview with the Lebanon-based Al-Mayadeen network, a station that is affiliated with the Hizbullah terror group and Iran. The full interview will air Friday, but excerpts were made public on Monday and presented on Israeli Channel 2 News.
During the interview Abbas provides details on the dissertation he wrote in Moscow, which discusses the alleged collaboration between Zionists and the Nazi movement before World War II.
According to the report, Abbas said that no one can deny that such a connection existed and claimed he has "70 books" to prove it.
In 1982, Abbas completed his PhD in history at the Patrice Lumumba University in Moscow. His doctoral dissertation was entitled "The Connection between the Nazis and the Leaders of the Zionist Movement." A book based on the dissertation was published in 1984 under the title "The Other Side: The Secret Relationship Between Nazism and Zionism."
Abbas claims in the book that the Zionist movement collaborated with the Nazis to annihilate the Jewish people, in exchange for a transfer agreement between Nazi Germany and the Jewish Agency, which allowed the transfer of the properties of tens of thousands of Jews from Germany to Israel. In the preface to the book, Abbas accuses the Zionist movement of inflating the number of victims and the severity of the Holocaust.
Abbas's spokesman, Nabil Abu Rudeineh, denied later on Monday that Abbas made the claims in question, saying in a statement that Abbas's "position is clear and firm, and he is committed to the peace process."
Abu Rudeineh claimed that there has been no change in Abbas's attitude towards peace and his desire to establish an independent Palestinian state whose capital is Jerusalem and which would exist alongside the State of Israel.
Several weeks ago, Abbas spoke glowingly of the "legacy" of the infamous Hajj Amin al-Husseini, who was a collaborator with the Nazis, and was prepared to conduct the mass murder of the Jews of the Land of Israel in the event of a Nazi invasion.
The Mufti, Abbas said during a Fatah march in Gaza, was a great man whose ways should be emulated by all PA Arabs, and was worthy of great praise.
Abbas also glorified terrorists from his Fatah and from the Hamas terror group, including senior leaders of Hamas who organized the some of the worst suicide terror attacks in Israel's history. He referred to these terrorists as "martyrs".
The PA's official television networks and newspapers regularly glorify terrorists who killed Israelis. Despite all this, Abbas is regularly touted by the left and the West as a "partner for peace" with Israel.