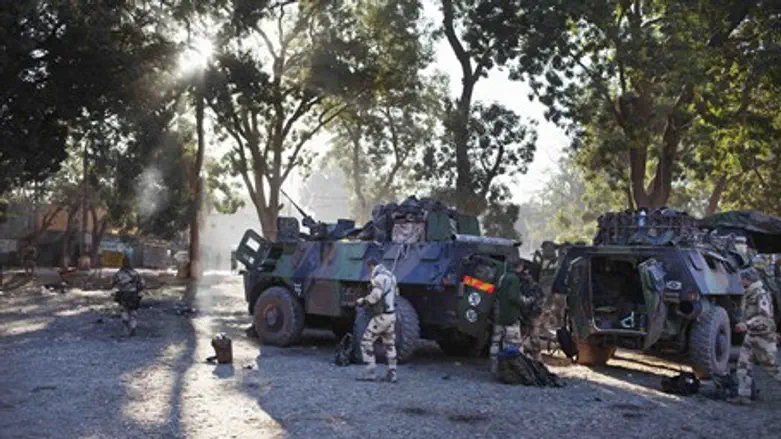 French soldiers fighting in northern Mali
Reuters
Al Qaeda-linked terrorists in Algeria have threatened more attacks in Algeria if France does not cease its military assistance to nearby Mali, which is fighting a coup attempt by Islamic jihadists.
The Masked Brigade terrorists, led by Mokhtar Belmokhtar, a former leader of Al Qaeda in the Islamic Maghreb (AQIM), last week attacked the In Amenas gas installation in southern Algeria. The plant is jointly run by the British BP oil giant, together with the Algerian national Sonatrach, and Norway's Statoil. The terrorists said the attack came as retaliation for Algeria's willingness to allow French fighter jets to use Algerian air space to cross into Mali.
Hundreds of Algerian and foreign hostages were seized, including at least seven Americans.  In the ensuing siege by Algerian special ops forces to free the captives, dozens were killed, including both terrorists and hostages. Among them were two Canadians and one U.S. citizen.   
The group threatened more such attacks in a statement on Monday if Western military involvement in northern Mali is not stopped, according to the SITE monitoring service, which tracks terrorist activity on the Internet.
The statement, published by the Mauritanian Nouakchott News Agency, referred to the Azawad region, where French military forces are fighting to help Malian troops knock out control over the area by Islamist extremists. France and West African leaders called on other world powers in a news conference on Saturday to commit money and logistical support for African armies readying their troops to join French soldiers who are already battling Al Qaeda-linked terrorists in Niono, a section of northern Mali.
Some 685 Algerian hostages were freed by the Masked Brigade terrorists prior to announcing demands that the government provide safe passage for the operatives and their 107 foreign hostages, nationals from 10 different countries – a demand refused by the Algerian government. Instead, Algerian special ops military forces laid siege to the installation, killing dozens of the terrorists in an attempt to free their captives.  In the process, dozens of the hostages also lost their lives, including one U.S. citizen.  A total of at least 80 dead were reported at last count, with the death toll expected to rise as more information is received, officials said.
The United States, meanwhile, has issued a severe travel alert to its citizens, warning them against travel to Algeria and issuing special cautions to those who are already in the country.