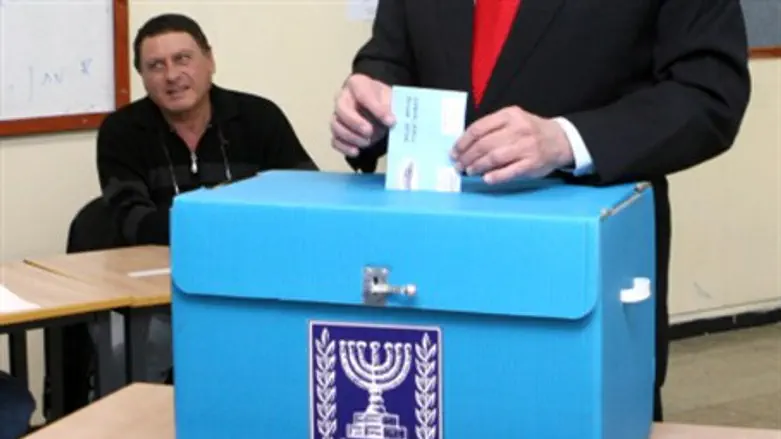 Election Day
Flash90
The Arab League issued a call for Israeli Arabs to vote on Tuesday's elections. The League, the umbrella group of Arab states in Africa and the Middle East, most of which do not have elections for national leaders, said that the Arab vote was needed "in order to prevent the far Right, which does not want peace and does not accept people other than Jews in the exclusively Jewish state, from winning."
In a letter, the League called on all Arabs to vote for Arab parties. With Arabs making up 20% of the Israeli population, the League said that Israeli Arabs "have an important task, to stand strongly against those who violate international law and the basic principles of democracy and justice." Failure to come out in droves, the League said, will only aggravate the problems of Israeli Arabs. "Based on what is happening in the Knesset, such as the attempts to pass racist laws against Arabs, the Right will be able to do whatever it wants and ethnically cleanse the Arabs" if Arab voters don't stop them.
The PA's Wafa news agency reported the Arab League call widely on Sunday, and added that Israeli Arabs should organize rides and other methods of assisting each other to vote. "You are the real owners of the land, defending your mosques and churches, our Muslim and Christian graves, your history and your land. Because of the past cruelties and the future dangers, you must unite and help each other to vote," the news agency instructed Israeli Arabs.
The voting rate for Israeli Arabs has been somewhat lower than for the general population in recent years. In 2009, 53.4% of Israeli Arabs voted in the elections for the 18th Knesset, compared to an overall 56.3% voting rate. In the elections that took place between 1969 and 1999, the Arab voting rate was mostly over 70%, but that rate fell precipitously, to 18%, in the 2001 elections.