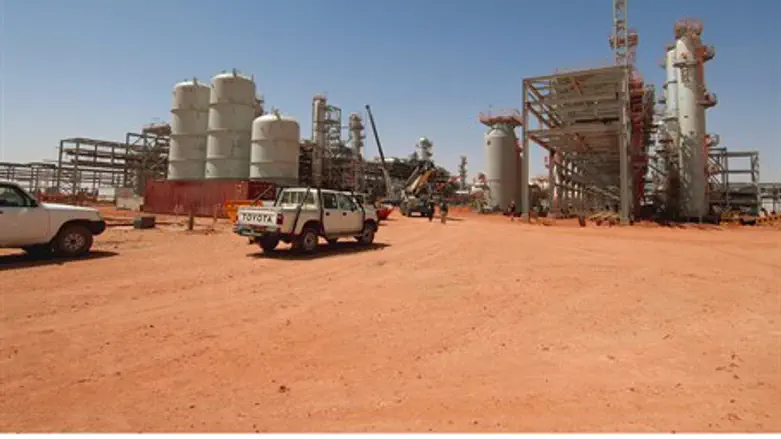 In Amenas gas installation
Reuters
At least 35 hostages and 15 terrorists were reportedly killed Thursday afternoon in a rescue attempt by the Algerian army at the In Amenas gas field installation.
Troops surrounded the gas facility and helicopters bombarded the terrorists and their vehicles from the air, as they tried to move their hostages, the Mauritanian ANI news agency reported.
Members of the group, an offshoot of Al Qaeda in the Islamic Maghreb (AQIM), belonged to the Khaled Aboul Abbas Brigade, led by former AQIM leader Mokhtar Belmokhtar. They had demanded the Algerian government provide them and their hostages with safe passage out of the area, but Algeria refused.
The installation is jointly operated by British giant BP, the national Algerian Sonatrach oil company, and the Norwegian Statoil firm.
Some 30 Algerian workers had earlier managed to escape their captors, according to the pan-Arabic Al Jazeera news network. The British Guardian newspaper reported that an additional 25 hostages also managed to escape during the siege by Algerian forces.
The terrorists said they were holding the hostages -- citizens from approximately 10 different nations -- in retaliation for the military offensive by France in nearby Mali.
Algeria has allowed French fighter jets to use its airspace to assist the Malian government in its battle against radical Islamic jihadist rebels, a point noted by terrorists in their statement to media.
"Forty-one Westerners, including seven Americans, French, British and Japanese citizens have been taken hostage," the operative told journalists. "The operation was in response to the blatant interference by Algeria and the opening of its air space to French aircraft to bomb northern Mali."