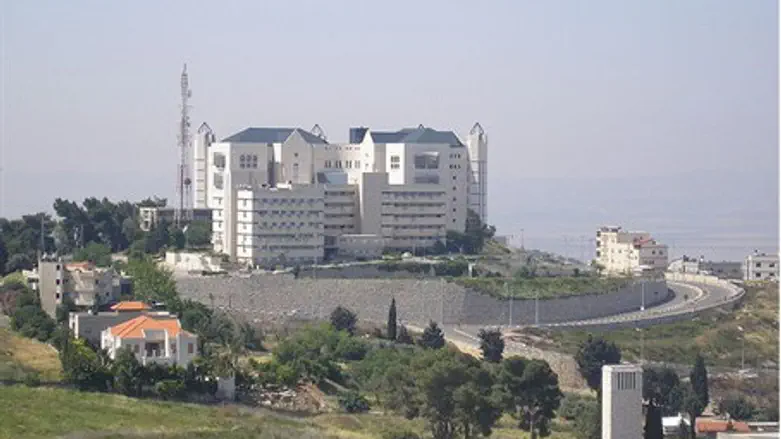 Nazareth Ilit
GNU/"Kippi70"
In a definitive response to an appeal to create an Arab school in Upper Nazareth, the city's Mayor rejected the proposal and vowed that no Muslim establishment would be erected on his watch - whether it be a mosque, a Muslim cemetery or an Arab school. 
Mayor Shimon Gapso added Wednesday that the proposal, which was submitted on January 7th by the Association of Civil Rights in Israel, represents "a provocative nationalist statement intended to disrupt the status quo" and vowed that he would continue to fight the proposal and any similar ones that may arise in the future. 
"Upper Nazareth was founded to make the Galilee Jewish and must preserve this role," he said. 
Of the 52,000 residents of Nazareth, the Arab population makes up around 20 percent of the total. There are no Arab schools in the city and most Arab students travel to nearby Arab towns and villages to attend classes. 
The proposal, submitted by ACRI attorney Ashraf Elias, stated, "The lack of adequate schools infringes on the Arab residents' right to accessible, available education and on the equality of allocating public and municipal resources."
"The Arab children in Upper Nazareth are deprived of free, available formal education in their own town and neighborhoods. This means the local authority and Education Ministry are hardly allocating any resources to the Arab children's education, compared to the Jewish children's education," Elias wrote to Gapso.
Gapso told Haaretz that the claim was unjustified because the city provides free transportation for Arab students to schools in Nazareth and nearby towns.
"The city's residents and I, as their leader, support the principle that Upper Nazareth must stick to this mission [of making the Galilee Jewish]," Gapso said, adding that he as mayor, along with the city's Jewish population will do everything in their power to prevent such measures which would change the city's Jewish character and status. 
Just recently Gapso asked the interior minister to declare Nazareth a "hostile city to Israel" and to cut off state funding to the city which he accused of becoming "a nest of terrorism in the heart of the Galilee ... waiting for an opportunity to stab Israel in the back."