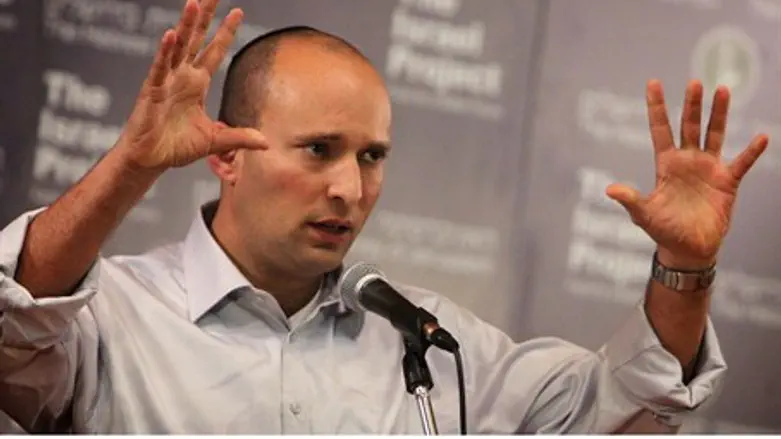 Naftali Bennett
Flash90
A campaign party in the Negev set the stage for calls once again by Bayit Yehudi (Jewish Home) chairman Naftali Bennett to end the divisiveness in Israel, ignore political and religious affiliations and face the real issues plaguing the country head on.
Over one thousand people attended a Jewish Home convention arranged by the party's supporters Sunday night in Be'er Sheva. Party chairman Naftali Bennett, and candidates Ayelet Shaked, Rabbi Eli Ben-Dahan, the city's deputy mayor Avi Wortsman and Rabbi Dr. Doron Danino were in attendance.
When asked about the economic situation in Israel, Bennett, who has been on the receiving end of personal attacks from rival parties, took the opportunity to inject his party's views on the economy into the address, but also spoke of the need to forge ahead without the alienation that many find in Israeli politics.
"I do not know what all the 'ism's are about, said Bennett. "I do not care about socialism and capitalism, we have a 3,000 year old Jewish economy which teaches us to be concerned for the weak, to love the stranger, and build community life and engage in mutual assistance. In Israel there is this issue where blame is placed on someone else - the settlements are to blame, it's all because of the hareidim, the secular leftists are to blame.
"In Jewish Home there are no camps, we are home to everyone. We don't know what Sephardi, Ashkenazi, secular, traditional means. The way to solve problems is together. The way to solve our problems is to stop the hate speeches in Israel. There should be no hatred between brothers -- Not in Likud, not in Labor, not in Yair Lapid nor in any party in Israel. We believe in brotherly love and with that we will win."
The speech comes just two days after Bennett threw his support behind Binyamin Netanyahu for Prime Minister, whose Likud party has mounted the fiercest political attacks against Bennett and his party.
"He is the most suitable person, taking into account my criticism of him as well as my praise," Bennett told Channel 10.