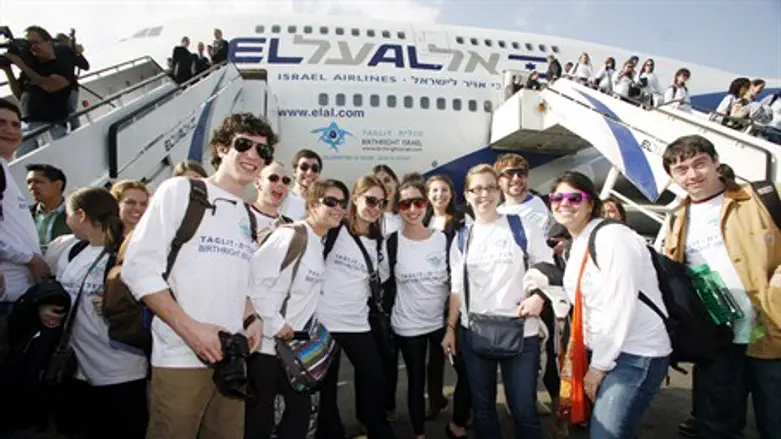 Birthright group arrives in Israel
Israel news photo: Birthright PR
Chief Rabbi Yona Metzger came to spend a unique Shabbat celebrating secular-kibbutz Bar Mitzvahs – and ended up also "hosting" some 40 Birthright participants for six lively hours of Sabbath morning prayers featuring singing, dancing, and "aliyot" - to utter the benediction for reading the Torah for all.
The story actually began last year. Shlomo Raanan, founder of the Ayelet HaShachar outreach organization, had been working closely with members of Kibbutz Ein Harod for a decade on Jewish matters. This, despite – or because – Ein Harod is a long-time bastion of secular Kibbutz ideology. In a flash of inspiration, it occurred to him that the Chief Rabbi's presence for Ein Harod's 90th anniversary celebrations would have precisely the right combination of intriguing interest and religious outreach. The kibbutz agreed to invite him, and the Chief Rabbi agreed to come.
In the event, as Ein Harod member Ofir Basor said, "The media sometimes feeds an anti-religious feeling, but all those who met Rav Metzger, who is so friendly, warm and open, came away with a much better feeling. The entire event made a very positive impression on all."
Raanan didn't stop there. He began to concentrate on the secular Kibbutz Degania, Israel's very first kibbutz, and his connections and hard work paid off: Rabbi Metzger and his family were invited to spend a Sabbath there – Jan. 5, Parashat Shmot – and in honor of the occasion, all the 13-year-old boys of the Kibbutz were to have their Bar Mitzvahs celebrated all together. Rabbi Raanan and some members of Ayelet HaShachar also came along – far from their first time sharing their Judaism on Shabbatot with kibbutz members.
Little did either of the rabbis, or the youths, or anyone else, realize how this one would actually turn out…
It happened that, shortly before the onset of the Shabbat, Rabbi Raanan found himself talking to a young non-kibbutz member from South Africa. To his question, "You're here in Degania because…?," she explained that she was a leader of a Birthright group of some 40 young adults. This week's itinerary took them through the Galilee, she said, and the "weekend" was set for Degania.
"How would your group like to meet with Israel's Chief Rabbi?" Rabbi Raanan asked innocently, and she immediately agreed. Thus, after the Friday night meal, the gathering took place, and at its end, it was determined that the Birthright participants – on what, for most of them, was their first-ever trip to Israel – would pay a visit to the next day's Sabbath prayer service.
"Bar Mitzvah Rivalry"
Meanwhile, the Bar Mitzvah boys – and their parents and neighbors – were gearing up for their celebration. As they each received an *aliyah* to the Torah and a certificate from the Chief Rabbi, their feelings of joy and pride were evident to all. Not to be outdone, some of the Birthrighters asked for a Torah aliyah as well – and before anyone realized it, aliyot were being granted as if it were Simchat Torah [when every man and boy receives one], accompanied by singing, dancing, and a general all-around high.
"The prayers, including Mincha, ended after 2 PM!" exclaimed an excited Rabbi Raanan, who said that it was "simply an amazing spiritual experience for everyone."
What about the girls? That's exactly what some of the Birthrighters asked – and in fact, a special walk to the nearby Lake Kinneret had been planned to commemorate the Deganiah girls "coming of Jewish age." However, it was apparently felt on high that the Kinneret, Israel's largest natural reservoir, would benefit from much-needed rain more than it would enjoy a few more visitors, and the trip was rained out… However, an alternate commemoration was held in the kibbutz on Sabbath afternoon, with the participation of local girls, Birthright women, Rabbi Metzger, and the Ayelet HaShachar contingent - and an inspiring time was had by all.
Full Circle
Rabbi Raanan noted that Rabbi Metzger's wife Ofrah is none other than the granddaughter of Rabbi Yosef Chaim Sonnenfeld. Why is that significant? "This was only the second time, following last year's visit to Ein Harod, that a Chief Rabbi has spent a Sabbath in a secular kibbutz. The last time was during the famous Rabbis' Journeys of 1913, 1923 and 1927 – which were initiated by none other than Rabbi Metzger's first predecessor, the saintly Chief Rabbi Avraham Yitzchak HaCohen Kook – and his most prominent colleague on the first trip was the renowned leading rabbi of the Eida HaHareidit, Rabbi Yosef Chaim Sonnenfeld. It has taken a century, but we have come full circle."