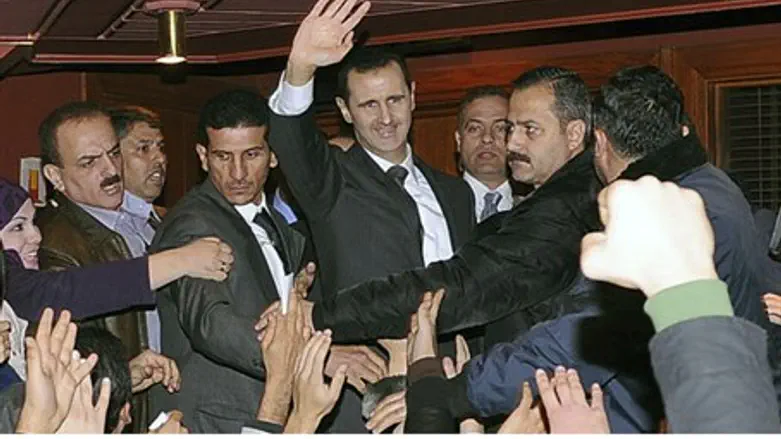 Bashar Al-Assad
Reuters
Syrian fighting has returned to an area of Damascus which serves as a camp for people registered as "Palestinian refugees."
AFP reported that five civilians were killed in heavy fighting around the Yarmouk camp. Four of the civilians were killed in shelling and the fifth by a sniper as battles raged between troops and rebels near the camp, the Syrian Observatory for Human Rights said.
Yarmouk is a suburb of Damascus that began as a refugee camp for Arabs who had fled Israel in times of war, and their descendants. Originally home to more than 150,000 residents, Yarmouk became a ghost town last month, with some 90 percent of its people having fled the violence. Many of the residents later returned as the fighting died down.
Days of heavy fighting in the camp have pitted rebels against fighters of the Popular Front for the Liberation of Palestine-General Command loyal to President Bashar Al-Assad. PFLP head Ahmed Jibril was driven out from the camp by opposition forces. The defectors have called for Jibril's arrest.
Palestinian Authority Chairman Mahmoud Abbas had asked the UN to take the first step towards flooding Israel with foreign Arabs by suggesting the fleeing Syrian "refugees" move to the PA.
However, reports on Tuesday indicated that both Abbas's Fatah faction as well as Hamas have rebuffed requests by the United Nations Relief and Works Agency's (UNRWA) for assistance in stemming the humanitarian crisis in Syria.
Meanwhile, Syria's Information Minister Omran al-Zohbi renewed a call for opposition figures to enter into a dialogue for peace offered by Assad, despite domestic and rebel groups already rejecting the proposal.
Zohbi said the invitation for talks had been issued "to all opposition forces to join a dialogue based on respect for national sovereignty and a rejection of foreign intervention of all kinds," state news agency SANA reported.
But he qualified that by saying the government would be contacting "all political forces and personalities that are patriotic" to take part.
The comments repeated an offer made by Assad on Sunday to hold discussions with Syria's opposition to end the conflict -- but only with elements he deemed acceptable, not rebel-affiliated groups he termed killers and terrorists led by foreigners.