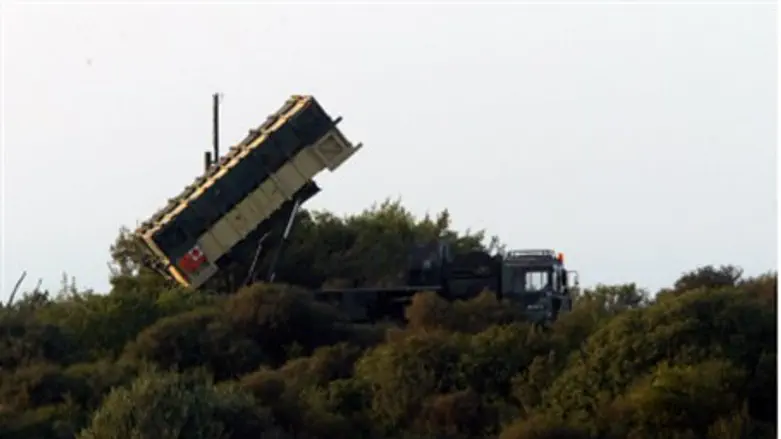 Patriot battery
Israel news photo: Flash 90
The U.S. deployment of Patriot missiles in Turkey began Saturday to help the country defend against any possible threats from neighboring Syria in the throes of a civil war, AFP reported.
"The deployment started early this morning into Incirlik" in southeastern Turkey, Peter Woodmansee, missile defense chief of the US European Command, told AFP on Saturday.
"Several aircraft landed very early this morning with the advance party personnel from 3-2 Air Defense Artillery (ADA) -- the Patriot unit -- arriving as well." he added.
U.S. military personnel and equipment began arriving Friday at Incirlik Air Base to support NATO's Patriot batteries deployment at Ankara's request, the report said.
The United States will transport some 400 troops to Turkey in the next several days to operate two Patriot batteries, the Stuttgart, Germany-based U.S. European Command said in a statement on Friday.
Additional equipment will arrive by sea later in January.
The Americans will be based at Gaziantep, 50 kilometers north of the Syrian border.
"The 23 U.S. team members at Gaziantep are determining specific site preparations the US and the government of Turkey must complete before we put the Patriot firing batteries at Gaziantep," Woodmansee told AFP. "Specifically, living area requirements, logistics, communications, safety and operational aspects of protecting the population in and around Gaziantep in support of the NATO defensive mission."
NATO agreed in December to deploy Patriot missiles along the border of Turkey as requested by Ankara to help it defend its territory against threats from Syria. Germany, the Netherlands and the United States have agreed to provide the missile batteries, which would come under NATO command.
The Germans will be based at Kahramanmaras, located about 100 kilometers north of the Syrian border; the Dutch at Adana, about 100 kilometers west of the border, reported AFP.
The Patriot systems are expected to become operational later this month.
Both Russia and Iran, the most powerful allies of the Assad regime, are opposed to the move. Iran's foreign minister has warned that the deployment of Patriots is a "provocative" action which could bring about "uncalculated" results.
Iranian President Mahmoud Ahmadinejadrecently cancelled a scheduled visit to Turkey, likely because of the Patriot deployment. The cancellation of Ahmadinejad's visit raised Turkish-Iranian tensions to new heights.
"This mission is purely defensive in nature," said Woodmansee, according to AFP.
The Patriots would be deployed "50 kilometers from the border in the vicinity of the town of Gaziantep for the NATO defensive mission to augment Turkey's air defense to de-escalate the situation along the Alliance's border," he added, noting that the deployment of the Patriot systems 50 kilometers from the border would not compromise the effectiveness of the systems.
Syria has said that Turkey's plans to deploy Patriot missiles along its border are "a new act of provocation."