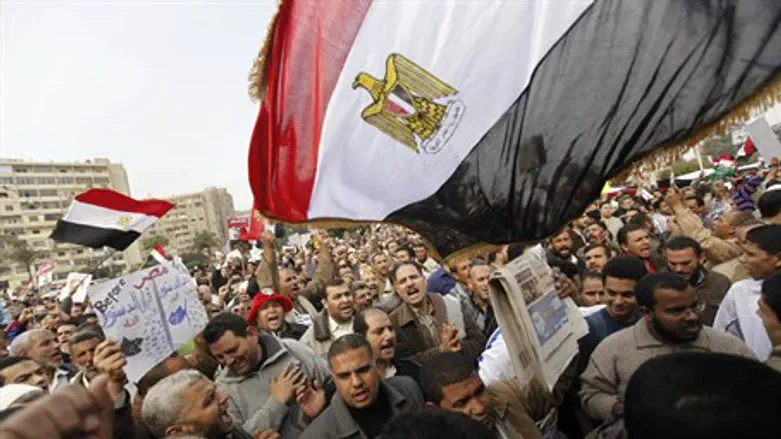 Members of the Muslim Brotherhood rally in Ca
Reuters
The Islamic Jihad terrorist group has vowed to fight Jews if they return to Egypt, saying they deserve to be killed, the Egyptian daily Al-Masry Al-Youm reported Thursday.
The Islamic Jihad called on the Muslim Brotherhood's Freedom and Justice Party's Essam al-Erian to resign from his role as advisor to the president and apologize to the Egyptian people for his statement asking Egyptian Jews to leave Israel and reclaim their properties back at home.
Last week, Erian caused a storm in Egypt when he said during a television interview that "it is better for Jews to live in a country like Egypt rather than in a country contaminated by occupation."
He added that the Jews should return immediately to Egypt to "make way for the Palestinian people" and said, "Every Egyptian has the right to come back to Egypt, no matter what his religion."
In response, Mohamed Abou Samra, a leading figure in the Islamic Jihad said, according to Al-Masry Al-Youm, "We shall fight them vigorously if they return, especially the Egyptian-Israeli Jews. Islamic Sharia says they deserve to be killed."
He added, "Erian is violating religion to be a national hero for the Jews at the expense of the Islamists. And the Brotherhood's denouncement of his remarks was too mild."
"They will destroy the economy and foment sedition," said Samra, according to Al-Masry Al-Youm. "Their return will be over our dead bodies."
"We will continue fighting the Jews until the liberation of Palestine or Doomsday," he stressed.
Earlier this week, Erian sought to dispel the controversy he caused by saying that the "ideology of Zionism" had ended in failure and predicting that Israel will cease to exist within a dcade.
"Jewish occupiers of the territory of historic Palestine are an obstacle to the Palestinians' right of return," he said. "Anyone who can read the future can see that this project has a decade, less than a decade to go, and it is our faith that the people of Palestine can then return to Palestine."
"There will be no such thing as Israel," he continued, "instead there will be Palestine which will be home to Jews, Muslims and Druze and all the people who were there from the start."
"Those who want to stay will stay as Palestinian citizens. Those who conquered Palestine will have to go back to their countries," he added.
A video released Thursday by the Middle East Media Research Institute (MEMRI) shows that Erian's boss, Egyptian president Mohammed Morsi, in 2010 rejected negotiations between Israel and the Palestinian Authority and referred to Jews as "apes and pigs".
"These futile [Israeli-Palestinian] negotiations are a waste of time and opportunities," Morsi is shown saying. "The Zionists buy time and gain more opportunities, as the Palestinians, the Arabs, and the Muslims lose time and opportunities, and they get nothing out of it. We can see how this dream has dissipated. This dream has always been an illusion. Yet some Palestinians, who erroneously believe that their enemies might give them something... This [Palestinian] Authority was created by the Zionist and American enemies for the sole purpose of opposing the will of the Palestinian people and its interests."
He adds, "No reasonable person can expect any progress on this track. Either [you accept] the Zionists and everything they want, or else it is war. This is what these occupiers of the land of Palestine know – these blood-suckers, who attack the Palestinians, these warmongers, the descendants of apes and pigs."
(Arutz Sheva's North American Desk is keeping you updated until the start of Shabbat in New York. The time posted automatically on all Arutz Sheva articles, however, is Israeli time.)