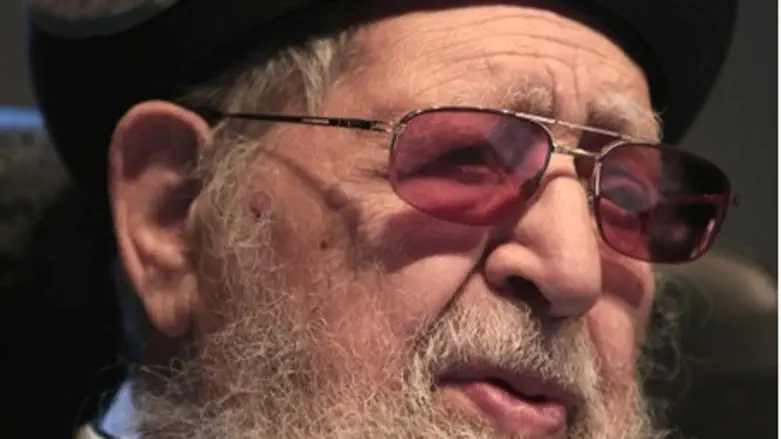 Rabbi Ovadia Yosef
Israel news photo: Flash 90
A secularist group has been successful in banning a smartphone app which allows users to receive blessings from Shas' spiritual leader, Rabbi Ovadia Yosef.
The chairman of the Central Elections Committee, Judge Elyakim Rubinstein, reached an agreement on Thursday with the representatives of Shas that they will no longer use the application.
Users of the app can receive a special virtual blessing from the rabbi. The app, called "Maran Shlita" (a combination of honorary titles by which the senior rabbi is known) is available free for Android phones.
Along with information about Rabbi Yosef's schedule, his writings, and a daily question and answer on matters of Jewish law, users can also watch his latest lectures via streaming video. Users can also send a letter directly to Rabbi Yosef, the app says, to receive a blessing from him.
In several of the videos on websites linked to the app Rabbi Yosef advocates voting for Shas, with Rabbi Yosef saying that doing so is a "mitzvah" and that those who follow his advice will "benefit."
Committing to vote for Shas is not a requirement for those sending a request for a blessing from Rabbi Yosef, but in a letter to the Election Committee, the secularist Hidush group headed by Uri Regev asked Judge Rubinstein to ban distribution of the app, claiming that it was designed to convince people to vote for Shas based on their receiving a blessing from Rabbi Yosef.
Regev wrote in a letter to Rubinstein that in four previous election campaigns, three for the Knesset and one for the local authorities, illegal use of blessings or amulets in order to receive votes was made.
"At least twice, the person who was behind this illegal use was the chairman of Shas at the time, and the person who is responsible today for the party's election campaign, Rabbi Aryeh Deri," claimed Regev.