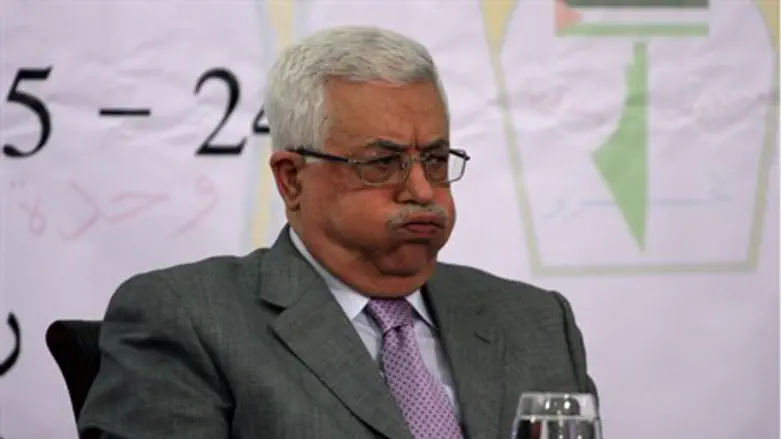 Abbas with map of 'Palestine'Palestine' in ba
Israel news photo: Flash 90
The Fatah party, headed by Palestinian Authority Chairman Mahmoud Abbas, has made official what it has been saying quietly and has adopted a new logo showing all of Israel as Palestine.
The logo marks the 48th anniversary of the founding of Fatah by Yasser Arafat and includes a map with the PA flag and a map of Israel that appears to be a depiction of the black and white checkered kefiyah, a symbol of the violent intifada, and the slogan "the state and victory."
Palestine Media Watch (PMW) revealed that the official PA daily published the new official logo.
For the past year, official PA documents have increasingly shown Palestine as covering all of Israel, but this is the first time the Fatah party has placed the map on its logo.
PMW noted, "Other symbols central to Fatah ideology also appear in the logo, including a rifle and a key symbolizing the Palestinian claim of ownership to houses within Israel."
The Arab media watchdog translated and published the article announcing the new logo:
"Senior Fatah official in the Gaza Strip, Yahya Rabah, stressed that the movement this year will hold a big, central rally in the Gaza Strip on the day of the 48th anniversary of the beginning of the Palestinian revolution.
"Rabah explained to Ma'an that the event will be held considering the atmosphere of reconciliation and unity that has prevailed in the Palestinian arena in the last few….
"The organizing committee for the 48th anniversary of the Fatah movement approved this year's main anniversary logo... [The rally] will take place in Gaza to mark the 48th anniversary of the modern Palestinian revolution under the slogan 'the state and the victory.'"
The Zionist Organization of America (ZOA) reacted to the new logo by urging "President Barack Obama, the European Union and the United Nations to condemn this outrage which reiterates the clear fact that Abbas and the Fatah/PA have no interest in peace with Israel, only its destruction."
ZOA National President Morton A. Klein said, "This new Fatah logo graphically depicts the ugly truth about this unreconstructed terrorist organization whose Constitution to this day calls for the destruction of Israel (Article 13) and the use of terrorism as an essential element in the struggle to achieve this aim (Article 19). …It belies the fiction that Mahmoud Abbas is a 'moderate' who seeks peace with Israel, and who wishes to end Palestinian terrorism against Israeli Jews. It also makes clear that the principles of Yasser Arafat are respected and promoted.
"The new Fatah logo is not an aberration. The Palestinian Authority continues to promote the incitement of hatred in Palestinian mosques, schools and media.
"The ZOA renews its call upon the Obama Administration to stop wasting hundreds of millions of dollars on the unreformed terrorist entity that is Fatah, to stop making excuses for Abbas, and to stop pressuring Israel to make dangerous concessions on the altar of appeasement."