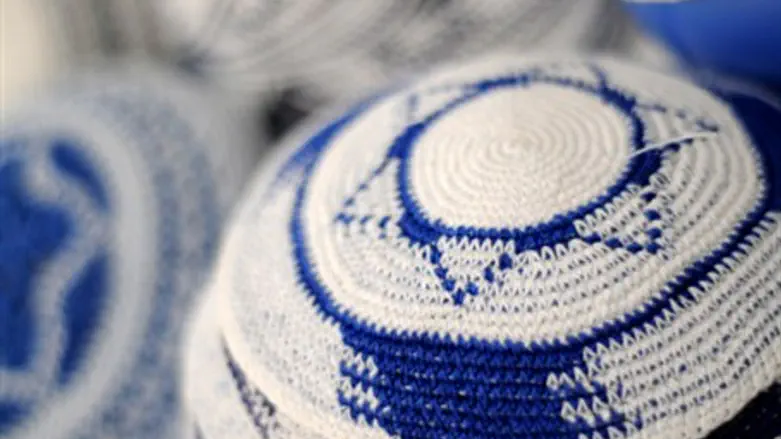 Kippot
Israel news photo: Flash 90
The Simon Wiesenthal Center issued a travel advisory last week for Denmark in wake of warnings by Israel's ambassador advising Jews and Israelis to refrain from wearing kippot, religious symbols, and speaking Hebrew on the streets of Copenhagen.
"It is intolerable that any Jew should have to hide his or her identity on the streets of Copenhagen. The Simon Wiesenthal Center rejects this as the 'new normal' for any Jew in Europe," said Rabbi Abraham Cooper, associate dean of the Simon Wiesenthal Center.
Israel's ambassador to Denmark, Arthur Avnon, issued a statement earlier this month saying, "We advise Israelis who come to Denmark and want to go to the synagogue to wait to don their skull caps until they enter the building and not to wear them in the street, irrespective of whether the areas they are visiting are seen as being safe."
"World Jewry remains deeply grateful to the people of Denmark, who throughout Nazi occupation during WWII treated their fellow Jewish citizens as equals. And in unparalleled acts of courage and humanity, Danes saved all 7,500 Jews from certain death at the hands of the Nazis by spiriting them out to neutral Sweden," Cooper said.
"In coming weeks, we plan to meet with Danish authorities to urge them to do more to take all necessary measures to secure the safety and security of Jews, citizens and visitors," he said.  
The Simon Wiesenthal Center had also issued a travel advisory on Malmo, Sweden, after multiple attacks against the local rabbi and other Jews went unanswered by the police and political leadership of Sweden's third largest city. The warning remains in effect.