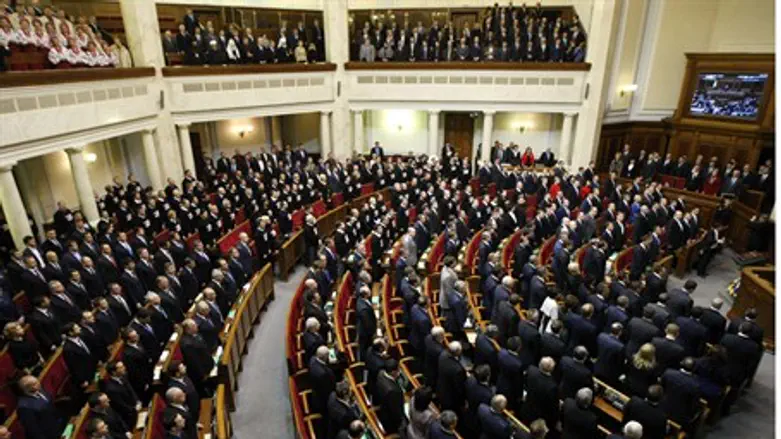 members of Ukrainian parliament
Reuters
A Ukrainian lawmaker from the far-right Svoboda Party has provoked international condemnations after referring to Jewish actress Mila Kunis as a "zhydovka", a Ukranian slur that translates to "dirty Jewess," on his Facebook page.
"She is not Ukrainian, she is a Jewess by birth. She is proud of this and the Star of David," politician Igor Miroshnichenko wrote on in the online message. "[S]he says nothing and expresses nothing positive about the country in which she was born. I can't bring myself to say she is Ukrainian. Let her love America or Israel, people must not attach her to the Ukraine!"
The Ukrainian Justice Ministry maintained that Miroshnichenko did nothing wrong because the word is included in a Ukrainian academic dictionary as an archaic term for Jew and is not considered a slur. The Ministry ruled that the use of the word "zhyd" and its feminine derivative "zyhdovka" to describe a Jew is legal and acceptable.
The Simon Wiesenthal Center in L.A. wrote a letter on Thursday to the Prime Minister of Ukraine Mykola Azarov expressing its "outrage and indignation against the slanders of the Svoboda Party directed against the Jewish community in the Ukraine."
The letter, written by the Center's Rabbi Abraham Cooper and Rabbi Marvin Hier, said the term was used as an "insidious slur invoked by the Nazis and their collaborators as they rounded up the Jews to murder them at Babi Yar and in the death camps."
"Mila Kunis' family...left the Ukraine in the first place because of anti-Semitism. Today, she is a respected American actress, who is now owed an apology by the Ukraine," the letter, which was obtained by TMZ, read. "It is a tragedy that even after the Holocaust and the demise of the Soviet Union such hatred and anti-Semitism is still a force in the mainstream of your country."
It concluded by calling on the prime minister to "publicly condemn this attack and to take measures to defeat the xenophobic forces that threaten your democracy."