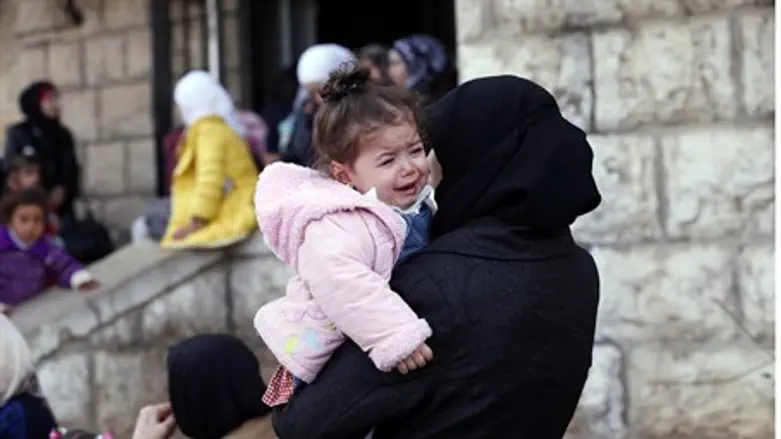 Members of family that fled Yarmouk
Reuters
Thousands of people recognized as Palestinian refugees returned on Thursday to the refugee camp in Damascus that has become a battle ground, as UN investigators warned of an openly sectarian conflict that threatens whole communities.
Four days on from a first air strike on the Yarmouk refugee camp, "thousands of Palestinians walked across army checkpoints at the entrance to the camp to return home, rather than sleep outside in the cold and under the rain," an aid worker in the camp said, according to AFP.
According to one resident and amateur video posted online, the residents of the camp and chanted: "We are returning to Yarmouk camp".
Another resident told AFP that most the fighters of the rebel Free Syrian Army that had been deployed in the camp thousands days earlier had pulled out of Yarmouk.
"There are a couple of fighters in each alley way, but they're drinking tea and smoking the nargileh (water-pipe)," the resident told AFP.
Yarmouk is a suburb of Damascus that began as a refugee camp for Arabs who had fled Israel in times of war, and their descendants. Originally home to more than 150,000 residents, Yarmouk has become a ghost town over the past week, with some 90 percent of its people having fled the violence.
Days of heavy fighting in the camp have pitted rebels against fighters of the Popular Front for the Liberation of Palestine-General Command loyal to President Bashar Al-Assad. PFLP head Ahmed Jibril was driven out from the camp by opposition forces. The defectors have called for Jibril's arrest.
Palestinian Authority Chairman Mahmoud Abbas had asked the UN to take the first step towards flooding Israel with foreign Arabs by suggesting the fleeing Syrian "refugees" move to the PA.
Abbas' request to United Nations Secretary General Ban Ki-moon, was reported by the official Palestinian Authority website Wednesday.
In Geneva, the United Nations Relief and Works Agency for Palestine refugees (UNRWA) said as many as 100,000 refugees may have fled Yarmouk in the past few days.
The dramatic turn of events in Damascus in recent days was followed by UN findings that Syria's conflict has become "overtly sectarian".
"As the conflict drags on, the parties have become ever more violent and unpredictable, which has led to their conduct increasingly being in breach of international law," the UN Commission of Inquiry on Syria said in a report published on Thursday.
After 21 months of conflict, which a monitoring group says has killed more than 44,000 people, "the dangers are evident," it continued.
"Entire communities are at risk of being forced out of the country or of being killed inside the country," it said, stressing that "with communities believing -- not without cause -- that they face an existential threat, the need for a negotiated settlement is more urgent than ever."
Minority groups such as Armenians, other Christians, Druze, Palestinians, Kurds and Turkmen had also been drawn into the conflict, the report said.
Meanwhile, Russian President Vladimir Putin told a press briefing on Thursday, "We are not concerned about Assad's fate. We understand that the family has been in power for 40 years and there is a need for change."
But he made no call on Assad to step down and said it was for the Syrian people to decide their future through peaceful talks.
"What is our position? Not to leave Assad's regime in power at any price, but to first (let the Syrians) agree among themselves how they should live next," Putin said.