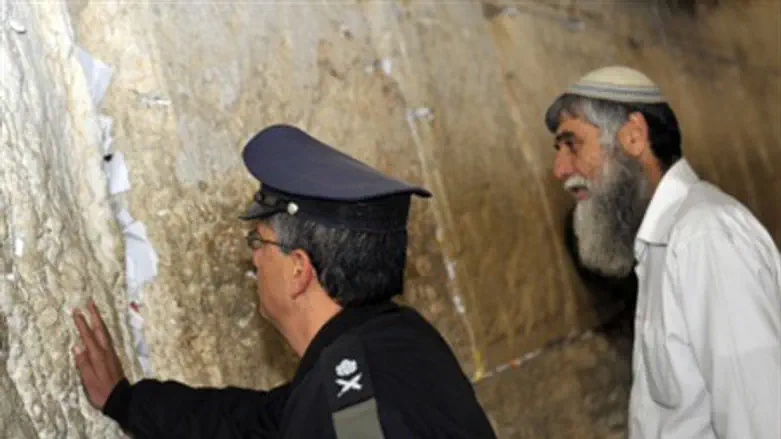 Maj. Gen. Eshel at Kotel
Israel news photo: Flash 90
Jerusalem police were left bewildered after finding signed checks worth around half a billion dollars at the Western Wall on Wednesday.
The 507 checks were discovered in an envelope at the Jewish holy site in the Old City of Jerusalem and handed in to police by a good citizen, the Western Wall Heritage Foundation said in a statement.
"The honest finder handed them over in accordance with the law to the police lost property office. For now the checks are waiting for whoever lost them," the statement said.
Police spokesman Micky Rosenfeld confirmed the unusual discovery at the Kotel, where it is more likely to find scraps of papers inscribed with prayers than checks for their life savings.
"There was an envelope that was found at the Western Wall. Inside the envelope itself were hundreds of cheques, each one for a sum close to a million dollars," Rosenfeld told AFP.
"It's been taken to 'lost and found,' and at the moment we're examining the source of each check and if they're real or not, but at the moment it looks as though they are genuine checks," he added.
Rosenfeld said the checks were from various countries, though the Western Wall Heritage Foundation described them as "Nigerian checks," according to AFP.
"From time to time the Wall receives donations from African countries," the statement added. "But most of them bounce."