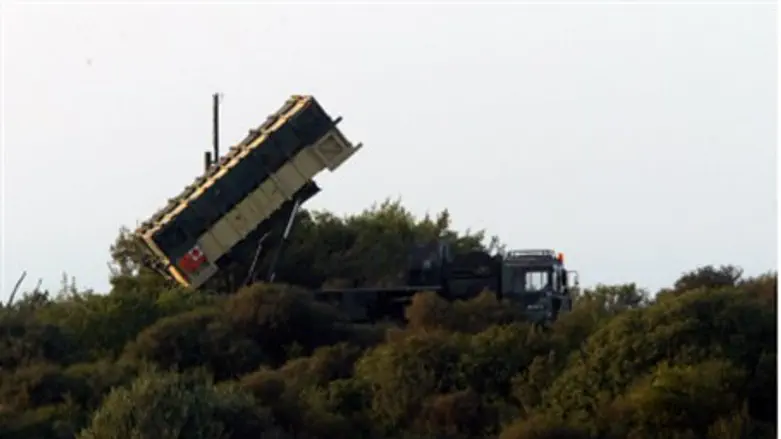 Patriot battery
Israel news photo: Flash 90
After threatening that Ankara could set off "World War III" if it allows the U.S. to deploy Patriot missiles on its border with Syria, a report Sunday said that President Mahmoud Ahmadinejad would not be visiting Turkey, as had been scheduled. Turkey's Hurriyet daily newspaper said that the cancellation of Ahmadinejad's visit had raised Turkish-Iranian tensions to new heights.
Earlier this year, Turkish Prime Minister Recep Tayyip Erdoğan had invited Ahmadinejad in honor of the 739th anniversary of the birth of Rumi, the originator of Sufi Islam, who had lived most of his life in Persia, and died in Turkey. The two had been set to discuss regional issues, especially Turkey's decision to cut Iranian oil imports in the wake of international sanctions. Israeli officials said that it was certain that Israel would be high on the agenda, since besides being Iran's sworn enemy, Israel's relations with Turkey are poor.
The Hurriyet report attributed the cancellation to the increased tension with Iran in the wake of Tehran's threat that deploying the missiles could ""create a world war." Speaking to the ISNA news agency, Iranian General Hassan Firouzabadi said that "the Patriot (missiles) are threatening. Each one of them is a black dot on the map, (setting the stage) to create a world war.
"The Western countries seeking to deploy the missile batteries on the Turkey-Syria border are devising plans for a world war," Firouzabadi said. "This is very dangerous for everyone, and even for the future of Europe. A veteran military man and analyst can easily see this and predict the future."
There was no comment on the report from official sources in Turkey or Iran.