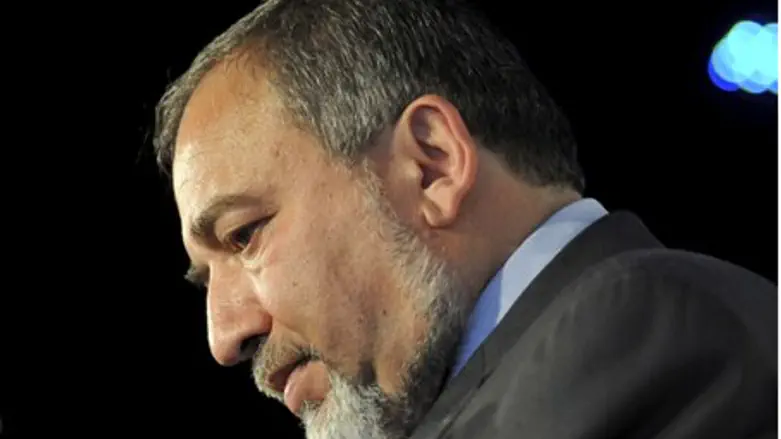 Lieberman resigns
Israel news photo: Flash 90
Foreign Minister Avigdor Lieberman handed in his resignation at the weekly Cabinet meeting Sunday morning and vowed. "I am leaving temporarily."
He rejected plea bargaining in the case of his alleged misconduct concerning a diplomatic appointment and said he wants a quick trial before the January 22 elections.
Law professor Suzie Navot, writing in Maariv, warned that holding a trial by January 22 would be "complex," deeming it "doubtful" that a court would agree to clear its schedule to help speed up the proceedings.
She pointed out that Lieberman's plan to seek a speedy resolution of the case was something of a gamble, noting that he could find himself out in the cold if the legal process drags on, or the final conviction has a moral turpitude finding attached to it, which would bar him from a ministerial position for seven years.
After being hounded for 16 years by government prosecutors and the police, a decision finally was delivered last week  to close two major allegations against Lieberman but to prosecute him for allegedly trying to win the appointment of Ze'ev Ben Aryeh with an appointment as ambassador to Belarus after Ben Aryeh sent Lieberman classified documents concerning a criminal probe against the Foreign Minister. Ben Aryeh eventually was not appointed ambassador.
"Five minutes ago, I handed in my resignation to the Prime Minister, and it will take effect at 10 a.m. Tuesday," Lieberman  said after he left the Cabinet meeting.
"I am leaving temporarily…. I am not worried. Personally, I have no concern. My concern is for the voting public."
He noted that 400,000 people voted for his Israel Beytenu party in the last election. The party now has merged with the Likud, and Lieberman said he is looking at his resignation as "a half-full glass" because it will give him more time to be active in the election campaign.
"The resignation will give me more time to increase my involvement in the election campaign. and I have no doubt of the results," he said. All polls show that the Likud-Israel Beyteinu party will win a solid plurality of Knesset seats, enabling Prime Minister Binyamin Netanyahu to head a government for the third time.
"It is clear to all of us that the country needs a strong Prime Minister and a stable government with a solid majority that is not dependent on splinter parties," Lieberman said.
Polls show that the second largest party will be Labor, headed by Knesset Member Shelly Yechimovich, followed by the merged slate of candidates for the Habayit Hayehudi (Jewish Home) and Ichud Leumi (National Union) parties, which now is projected to win anywhere from 12 to 16 Knesset seats, nearly as many as Labor.
A strong Jewish Home-National Unity showing would make the next government more solidly nationalist. particularly with the first-time election of Jewish Leadership faction leader Moshe Feiglin as a Likud Knesset Member.