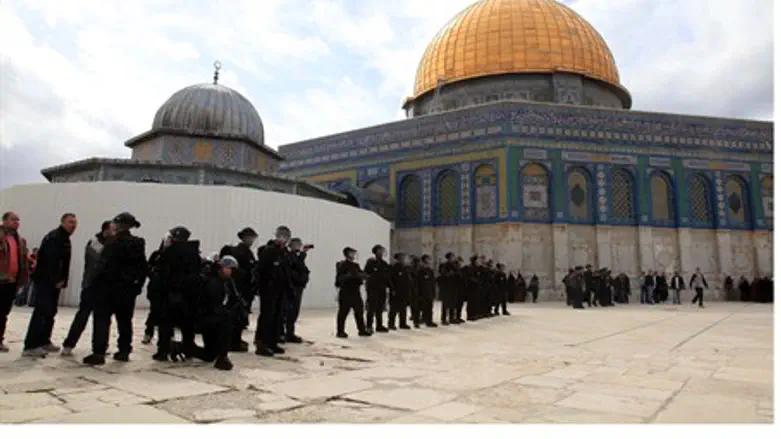 Mosques on the Temple Mount
Israel news photo: Flash 90
Jews have been barred from the Temple Mount in Jerusalem until Sunday, the last day of Hannukah. The Temple Mount is the holiest site on earth according to Jewish tradition.

The ban is aimed at preventing a Muslim riot at the site. Riots are thought to be particularly likely following Friday prayers.

It follows riots and terror attacks in Judea and Samaria. Tensions were particularly high following two incidents in which soldiers shot Arab attackers in Hevron.

Jewish organizations dedicated to Temple Mount activism expressed upset at the police ban. "The police treat the Temple Mount like a Muslim site, and open it to others only when necessary for tourism, at times and on days that suit tourists," activists accused.

"In comparison," they continued, "Jewish residents of Israel are discriminated against."

They called to leave the Temple Mount open to Jews on every Jewish holiday. "The police must consider the many who wish to ascend the Mount for prayers and visits on Jewish holidays, and to institute the model used in the Tomb of the Patriarchs," they urged. The Tomb of the Patriarchs in Hevron is normally split between Jews and Muslims, but is opened in its entirety to each religion on its holidays.

Currently Jewish prayer is not allowed on the Temple Mount, again for fear of Muslim reactions. Jews are allowed to visit the holy site but can be arrested for praying or even moving their lips in what appears to be prayer.

Activist groups have intervened against such arrests, and have successfully lobbied police to ease anti-Jewish discrimination.