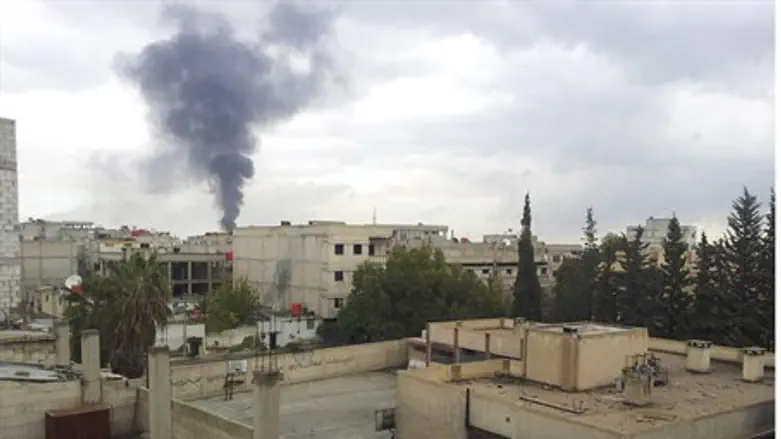 Smoke rises near Damascus
Reuters
Syria has accused the United States of seeking to frame the country for using chemical weapons, Syrian state-run media reported.
"The U.S. administration has consistently worked over the past year to launch a campaign of allegations on the possibility that Syria could use chemical weapons during the current crisis," the Foreign Ministry wrote in letters to U.N. Secretary-General Ban Ki-moon, the state-run Syrian Arab News Agency (SANA) reported.
"What raises concerns about this news circulated by the media is our serious fear that some of the countries backing terrorism and terrorists might provide the armed terrorist groups with chemical weapons and claim that it was the Syrian government that used the weapons," SANA quoted the letters as saying.
U.S. officials have expressed deep concern regarding reports that Syrian military units may be preparing to use chemical weapons, with President Barack Obama calling the use of such weapons against the Syrian people a "red line" that could prompt American military intervention.
Israel's so-called "red line" differs from that of the U.S., as it has said that any evidence of chemical weapons being passed from the regime of Bashar al-Assad to terrorist groups like Hizbullah could warrant military action.
The United States and European allies are using defense contractors to train Syrian rebels on how to secure chemical weapons stockpiles, according to a senior U.S. official and senior diplomats, CNN reported.
The training, which is taking place in Jordan and Turkey, involves how to monitor and secure stockpiles and handle weapons sites and materials, according to the officials, who spoke on condition of anonymity.
Some of the contractors are in Syria working with the rebels to monitor some of the sites, one of the officials said, according to CNN.