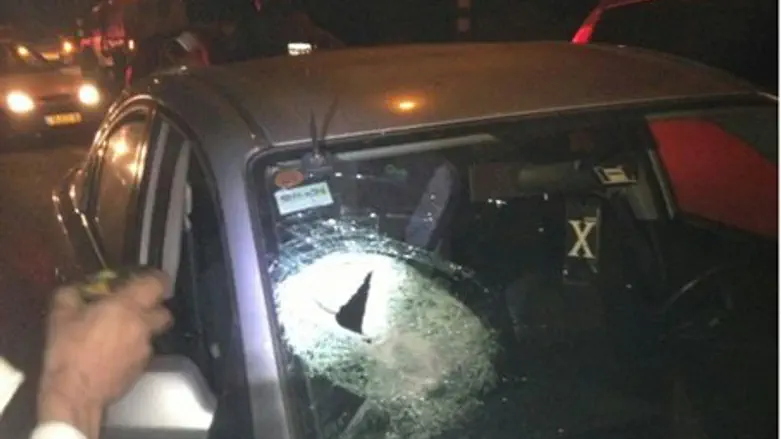 Car hit by rock
Ichud Hatzalah
The wife of an Israeli singer who was critically wounded in an Arab attack during the IDF's Operation Pillar of Defense has made a miraculous recovery.
Ziona Kalla, wife of singer Itzik Kalla, was sitting in a car driven by her daughter when it was ambushed by Arabs near the community of Beitar Illit. During the attack, firebombs were thrown at the car and it was pelted with rocks. One of the rocks smashed the windshield and hit Kalla's head.
She was taken to the Hadassah Ein Kerem Hospital in Jerusalem where she was hospitalized in intensive care, suffering from fractures in her head and face. Upon her arrival at the hospital Kalla underwent a series of operations.
However, in recent days, she has come out of intensive care and regained consciousness.
Her husband spoke to Channel 2 News last week about the aftermath of the attack, the prayers for his wife and the long recovery she faces.
"I was in the recording studio and I got a call from my daughter who told me, 'Dad, Dad, Mom was shot,'" said Kalla. "I came to the emergency room and someone told me, 'Itzik, your wife died.' I didn't know what to do with myself, but after a few minutes an officer came up to me and said, 'Itzik, do not cry. Your wife is on a respirator, she was seriously wounded, but is on a respirator and is alive."
"When I first saw her in the hospital bed, to tell the truth, I did not believe she would live," he recalled. "I fell apart. I do not remember when I ever cried like that."
Itzik Kalla said he sang to his wife as she lay in intensive care, and that when he sang to her "I saw tears in her eyes, she blinked and looked at me."
"Two days before the attack I performed in Ashdod and she said to me, 'Itzik be careful, the situation is difficult, missiles are falling on Ashdod, and I'm very worried,'" he said. "I told her, 'Do not worry, G-d willing, everything will be all right.'"
Kalla said, "One always thinks, 'What can such a large rock do? It's not a shooting, it's not a missile.' Well, that's what a large rock can do."