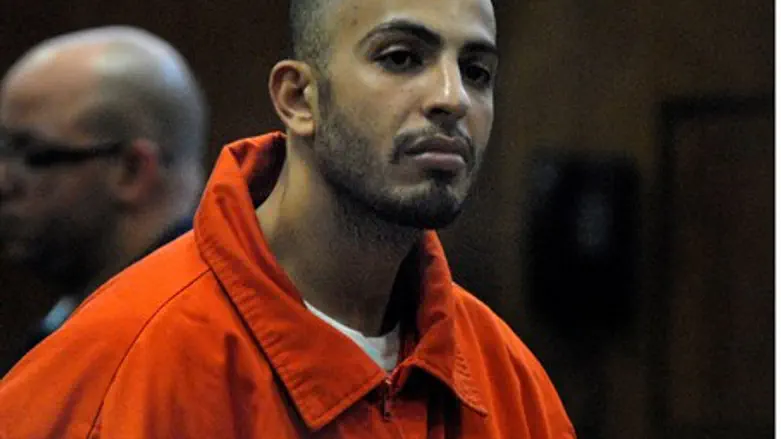 Ahmed Ferhani
AFP photo
A suspect in a plot to disguise himself as a Jew and unleash a bloodbath in Manhattan synagogues and churches pleaded guilty to terror charges Tuesday and will be sentenced next month, authorities said, according to AFP.
The guilty plea by Ahmed Ferhani, 27, "marks the first time a terrorist has been convicted on state terror charges since the New York Anti-Terror Laws were passed shortly after September 11, 2001," Manhattan District Attorney Cyrus Vance said in a statement.
The Algerian native is set to be sentenced January 30.
Ferhani was arrested in May 2011 with Moroccan native Mohamed Mamdouh, 21. The pair was also alleged to have said they would attack the Empire State Building.
Documents presented in their cases said the two conspired between October 2010 and May 2011 to plant bombs in Manhattan churches and synagogues to send a violent message to U.S. Christians and Jews, reported AFP.
At the time of their arrest, New York Mayor Michael Bloomberg said there had been 13 plots against New York since nearly 3,000 people were killed on September 11, 2001 at the World Trade Center in Manhattan, the Pentagon and in Shanksville, Pennsylvania.
According to the Manhattan prosecutor's office, the undercover investigation lasted seven months, during which time Ferhani and Mamdouh were recorded making plans for attacks against the city's large Jewish population.
Ferhani and Mamdouh previously plead not guilty to the terror plot.
In June it was reported that Ferhani and Mamdouh face six and five charges respectively of possessing weapons and terrorism. The grand jury rejected, however, a charge of conspiracy to commit a terror crime, which carries a maximum of life imprisonment.