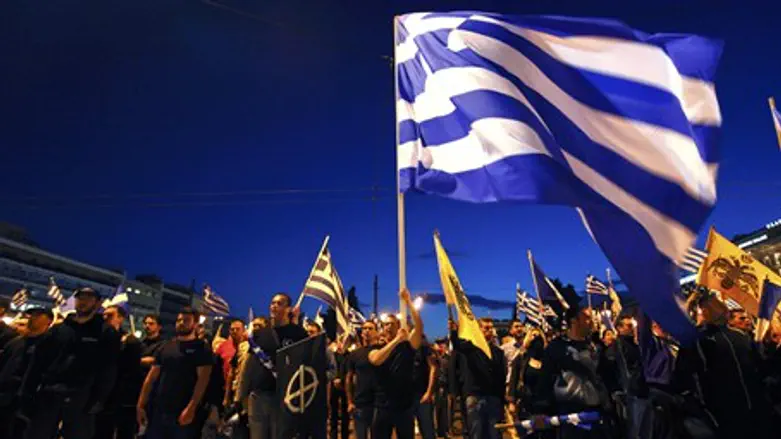 supporters of neo-Nazi Golden Dawn party
Reuters
Scores of prominent European public figures, including a Nobel laureate and a Nazi-hunter, backed a call on Monday to march against a neo-Nazi surge in Greece, AFP reported.
The silent walk from the Greek parliament to the Acropolis is set for December 15, according to the Paris-based organizer, the European Grassroots Antiracist Movement (EGAM).
EGAM said that racist, anti-Semitic and Holocaust-denying speeches as well as an increase in violence in Greece "jeopardize the fundamental values of democracy, in the very country where it was born".
"Let us be clear: fighting racism, anti-Semitism and neo-Nazism in Greece does not mean fighting Greece, but fighting this ideology of hatred spreading across the whole continent," the group said, according to AFP.
Greece has seen a sharp increase in neo-Nazi activity, with the far-right Golden Dawn party winning an unprecedented 18 seats with seven percent of the vote in June parliamentary elections.
Human rights groups also warn that xenophobic attacks on migrants and refugees are on the rise in Greece, where economic hardship and crime have fuelled the rise of far-right and vigilante gangs.
French Nazi-hunter Serge Klarsfeld and Italian Nobel Literature Prize winner Dario Fo were among those who signed the appeal, along with activists, students and leaders of immigrant associations.
The march also won the backing of the socialist Pasok party and the small Democratic Left party—partners in Prime Minister Antonis Samaras's coalition government—as well as that of main opposition party Syriza, said EGAM head Benjamin Abtan.
Early Tuesday morning, a bomb exploded outside the offices of the neo-Nazi Golden Dawn party near Athens, in what may be further indication of opposition to the country's growing ultra-nationalistic racist and anti-Semitic sentiments.