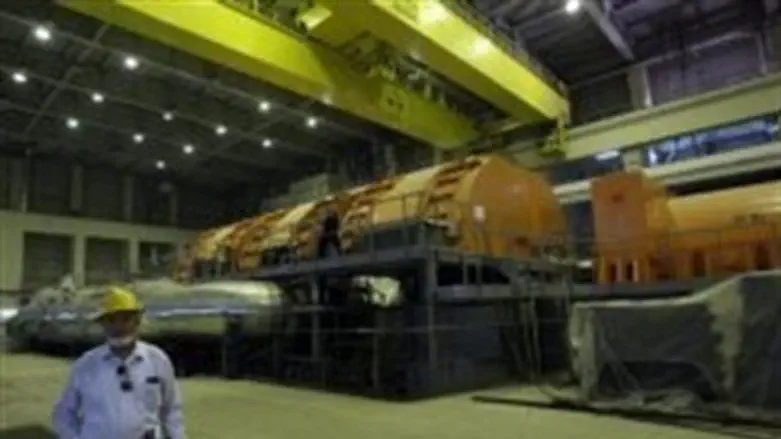 File picture shows the inside of the Russian-
AFP photo
US intelligence agencies have significantly stepped up spying operations on Iran's Bushehr nuclear reactor prompted by concerns about the security of weapons-grade plutonium there, TheWall Street Journal reported Monday.
Citing unnamed American officials, the newspaper said the increased US surveillance of Bushehr has been conducted in part by its unmanned drones operating over the Gulf.
The effort resulted in the interception of visual images and audio communications coming from the reactor complex, the report said.
Tehran suggested that a US drone was spying on Bushehr on November 1 when it sent Iranian fighter jets to pursue the unmanned craft, firing at it but missing, the US paper said.
But according to US officials, the drone was conducting surveillance that day, but not on Bushehr, The Journal said.
The stepped up surveillance came after the US government became alarmed over activities at Bushehr, especially the removal of fuel rods from the plant in October, just two months after it became fully operational, the paper said.
Tehran formally protested the Pentagon's spying activities in a November 19 letter to United Nations Secretary-General Ban Ki-moon, The Journal said.
The complaint charged that the United States has repeatedly violated Iranian airspace with its drone flights, according to the paper.
Iran keeps on insisting that its nuclear program is peaceful, but most Western nations in the international community suspect its real aim is to develop nuclear weapons.
The United Nations nuclear watchdog agency has exposed circumstantial evidence, which along with US aerial photos, virtually prove that Iran is trying to camouflage development of a nuclear weapon.
The UN Security Council has imposed four rounds of sanctions on Iran which have been augmented this year by painful Western restrictions on its vital oil exports, leading to serious economic problems.