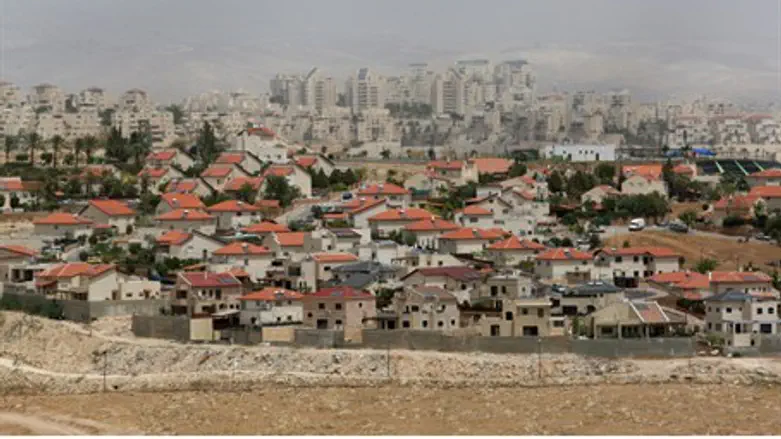 Ma'aleh Adumim
Israel news photo: Flash 90
Less than 24 hours after the United Nations voted to recognize the Palestinian Authority as a non-member observer state, Israel has responded by approving construction of new Jewish homes.
On Friday afternoon, the forum of nine senior ministers approved the construction of 3,000 housing units in Jerusalem, Judea and Samaria.
In addition, the nine ministers decided to promote the building of thousands of housing units in Jerusalem and in the so-called 'settlement blocs', including the area known as E1 which connects Jerusalem and Maale Adumim, a long-standing request.
A senior diplomatic source said, according to a Channel 2 News report, that "continued construction is done according to Israel's strategic interests." The source added that additional measures to respond to the PA's unilateral move are currently being considered.
As expected, PA officials reacted with anger to the Israeli decision.
"It is an act of Israeli aggression against a state, and the world needs to take up its responsibilities," PLO official Hanan Ashrawi told AFP.
"What was announced today is just part of a comprehensive settlement plan," she said. Many on the Israeli right would find that statement, if true, to their liking.
PA Chairman Mahmoud Abbas also denounced the Israeli decision and called on Friday for a halt to construction of Jewish homes and a return to peace talks with Israel.
"I've said a thousand times that we want to resume negotiations and we are ready to do it," Abbas told reporters in New York, according to AFP.
"We are not setting any condition but there are at least 15 UN resolutions which consider settlement activity as illegal and an obstacle to peace which must be removed," he said. However, Abbas' preconditions have made talks impossible for Israel and when Israel agreed to a 10-month building freeze in order to start talks, he found a reason to end them.
Prime Minister Binyamin Netanyahu warned on Thursday night, as the UN approved the PA resolution, that Israel would respond in the manner it would find appropriate.
"By going to the UN, the Palestinians have violated the agreements with Israel and Israel will act accordingly," said a statement by Netanyahu's office.
The Israeli decision to expand construction was also met, as expected, with criticism from the left. The Labor party responded to the decision by saying, "There is no question about Israel's right to build. But at this time, following the difficult decision yesterday at the United Nations – it would be more desirable to lower the flames and try to achieve sober and responsible dialogue. Announcements of this kind do not promote anything and ultimately could harm the legitimate interests of Israel."
The leftist Meretz party also rushed to strongly criticize the decision and a statement issued on behalf of party chairwoman Zahava Galon said, "It is not enough for Netanyahu and Lieberman to be isolated in the world, they insist on being lepers. Netanyahu responded to the UN vote, which placed Israel before a pit, with a decision to take a step forward and fall. Construction of 3,000 housing units in the settlements, designed to punish the Palestinians – will only punish us."
(Arutz Sheva's North American Desk is keeping you updated until the start of Shabbat in New York. The time posted automatically on all Arutz Sheva articles, however, is Israeli time.)