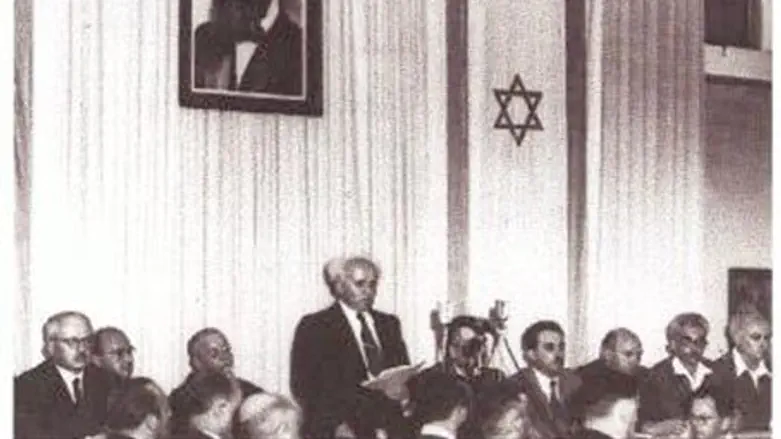 Declaration of Independence 1948
A7 archives
Ehud Olmert isn't the only Israeli who is applauding the PA's statehood bid at the UN. Far left political party Meretz, too, approves of the moves, and plans a rally in Tel Aviv Thursday night – right in front of the building where David Ben-Gurion declared a Jewish state on May 14, 1948.
The rally will be held at 16 Rothschild Street in Tel Aviv on Thursday evening. The building is better known as Independence Hall, and is the site where Israel's Declaration of Independence was signed. The document was signed by the executives of the Jewish Agency and members of the future government in the afternoon, just hours before the British Mandate for Palestine was set to expire.
Afterwards, Ben Gurion emerged from an upper-floor balcony and announced that the Israel had declared itself a state. Thousands of Israelis outside the building, many of them Holocaust survivors, broke out into spontaneous singing and dancing, celebrating the first indepenent Jewish entity in its homeland in nearly 2,000 years.
Immediately, the armies of seven Arab nations opened a war of annihilation on the infant state, a war they eventually lost, at a great cost in lives. Fully 10% of Israel's population was killed in that war.
After years in which it was unused, the building was restored and opened to the public in 1978. It now houses exhibits on the signing of the Declaration of Independence and on the history of Tel Aviv.
The site for the rally was indeed chosen for its historic significance, Meretz said. In a statement, Meretz said that it "extended a hand to the new state. A Palestinian state is in the interests of all Israelis. Meretz suggests that Israelis think 'out of the box,' and support the Palestinian's request to be granted statehood status at the UN. An Israeli vote in favor of the resolution will be the first step to reopening negotiations, restore hope to the region, and weaken the radicals in the PA." 
They made no mention of the fact that this one-sided request negates the provisions of the Oslo Accords,  and is an attempt to approach "statehood" while bypassing peace with Israel and remaining a hostile entity.
A special message from PA chief Mahmoud Abbas will be read at the event. Singer Miri Awad will perform.