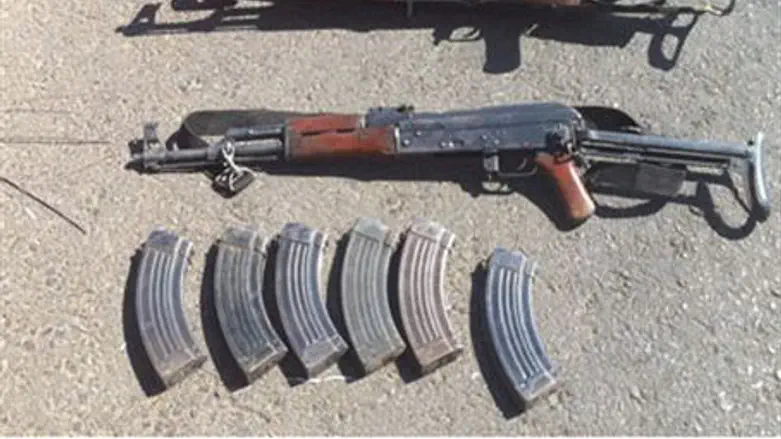 Weapons confiscated from Gaza smugglers
Israel news photo: IDF
Following the ceasefire it brokered between Israel and the region's ruling Hamas terrorists, Cairo has blocked two arms shipments to Gaza in less than a week.
Egyptian media report that security forces arrested three smugglers Tuesday while intercepting a large weapons shipment headed for Sinai from Libya.
But the vast Peninsula was not the final destination: according to the report, Gaza was the intended destination for the ordnance, valued at $3.3 million.
The cache included 185 crates filled with anti-tank and anti-aircraft missiles, landmines, explosives, rocket-propelled grenades (RPGs) and 5,000 rounds of bullets.
Last week security police stopped a convoy of trucks near Marsa Matrouh, an Egyptian town along the Nile Delta near the Libyan border. That mechanical caravan reportedly bore 108 Grad Katyusha missile warheads.
Cairo is still involved in hammering out the details of the ceasefire agreement between Israel and Hamas.
Israeli negotiators have emphasized that the agreement was to include an end to the flow of weapons into Gaza. But Hamas has claimed that no such agreement was made.
Ahmed Youssef, senior political adviser to de facto Gaza Prime Minister Ismail Haniyeh, told McClatchy news media, "We will also not stop smuggling weapons into Gaza from the Sinai, and this was made clear during the initial negotiations of the ceasefire. Why shouldn't we receive weapons to defend ourselves when the Israelis receive weapons from the Americans all the time?"
Youssef added that Hamas managed to retain a significant arsenal of weapons following last week's conflict with Israel.
In addition to the ordnance flowing into the region from Libya, Gaza terrorists are being armed by Syria and Iran, via smuggling routes that wind their way through Sudan before traveling through Sinai and into the tunnels under the border between Egypt and Gaza.