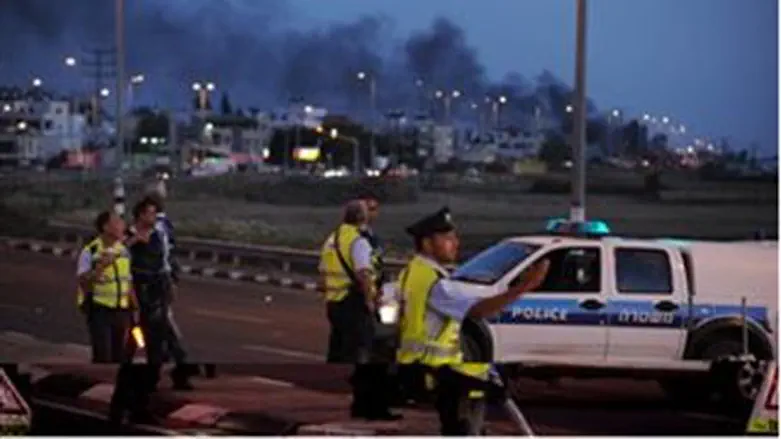 Rock attack in Samaria (Shomron)
Israel news photo: Flash 90
Palestinian Authority Arab terrorists are continuing road terror attacks on Israelis, although rocket fire is now banned due to the ceasefire agreement between Israel and Gaza terrorists.
The deal, which ended Israel's eight-day Operation Pillar of Defense counter terror offensive in the region, was brokered by Egypt and the United States last week with Gaza's ruling Hamas terrorist organization. It eased security restrictions on Gaza residents, extending maritime fishing limits to six nautical miles from the shore and loosening controls on the land crossings into the region. 
The ceasefire had no effect on what has become an increase in the number of road terror attacks in Judea, Samaria and parts of Jerusalem restored to the capital in the 1967 Six Day War, however.
IDF soldiers discovered a bomb Wednesday morning planted along a road southwest of Shechem (Nablus) in the Shomron (Samaria) region.
Sappers who were called to the scene defused the explosive, preventing it from causing any injuries or damage. The perpetrator who planted the bomb has not yet been caught.
In a second terror attack, an Arab gang hurled rocks and firebombs at Israeli motorists traveling along the same road a short while later. The driver and passengers were not injured, and the vehicle was reportedly not damaged.
On Tuesday, PA Arabs hurled firebombs at a military vehicle north of Hevron, in Judea. No one was injured and no damage was reported. IDF soldiers fanned out to search the area for the attackers.
A 60-year-old woman was seriously wounded in a rock-and-firebomb attack recently near the city of Beitar Illit, located just south of Jerusalem, also in Judea.
The number of road terror attacks has been on the rise over the past year, parallelling the number of Muslim extremist leaders inciting PA Arabs on the street and calling for a "Third Intifada."