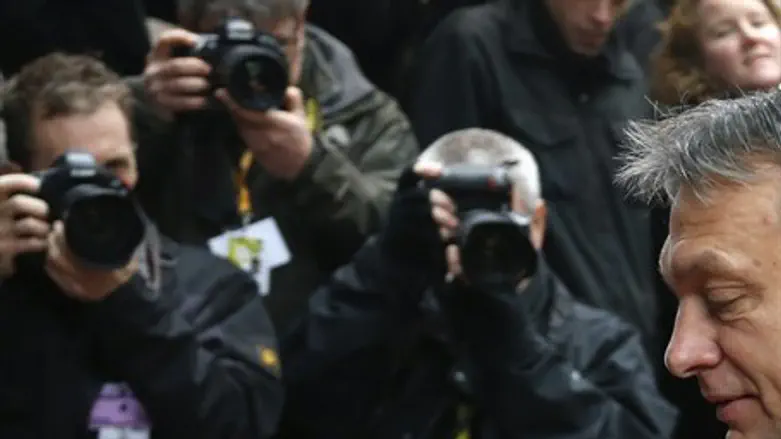 Hungary's Prime Minister Viktor Orban
Reuters
In an act that far too greatly recalls the policies of the Nazi regime, a far-right Hungarian lawmaker released a statement Monday saying that a list should be compiled of all of the Jewish members of parliament and government.
Marton Gyongyosi of the blatantly anti-Semitic Jobbik party said before regular business hours in Parliament on Monday that government officials and parliamentarians of Jewish origin had unduly influenced Hungary's policy towards the current situation in Israel and Gaza.
"It is high time to assess many MPs and government members are of Jewish origin and who present a national security risk to Hungary," Gyongyosi said, according to the Hungarian news site, politics.hu.
The country's foreign ministry, he continued to state, had "rushed to make an oath of allegiance to Israel."
The office of the government's spokesman released a statement Tuesday morning saying that the government "takes the strictest possible action against every form of racism and anti-Semitic behavior and does everything in order to ensure that malicious voices incompatible with European norms are driven back."
The lawmaker claimed his comments only applied to those who hold dual Hungarian-Israeli citizenship. He further criticized the press for attacking the Jobbik party instead of Israel.
His comments followed those made by Jobbik president Gabor Vona last week at a demonstration in front of the Israel embassy in Budapest, in which he said that government members and MPs should be screened to determine whether any possess dual Hungarian-Israeli citizenship, the Hungarian news site reported.
The remarks also come a day before a major conference on hate speech organized by the Council of Europe was scheduled to open in Budapest.
According to the news source, Gyongyosi sparked controversy in July when he lashed out at investigators searching for Nazi war criminals in Hungary.
He sarcastically said that, "no summer can pass" without the Simon Wiesenthal Center discovering the "most wanted" Nazi criminal, referring to the arrest of Laszlo Csatary.
In January he was further accused by the opposition Socialist party of espousing Holocaust denial.